Jon Jones may be facing a likely lengthy suspension from USADA, but he doesn't think that prevents him from still being the UFC light heavyweight champion.
But knowing Jones, he could wiggle out of the situation if everyone could, and indeed he believes (or claims to) that he'll be proven innocent when it becomes apparent he never knowingly used the anabolic steroid Turinabol he tested positive for during his UFC 214 title bout with Daniel Cormier last year.
That's kept the champ extremely active on social media in his attempt for his latest and now-countless comeback, and he did just that today. When presented with a fan's opinion that he was still the champion, Jones said he didn't need to physically have to hold the belt to be the 205-pound champion, and the top five of his division knows that:
https://twitter.com/JugositoJ/status/1001909022499528705?tfw_creator=MMAjunkie&tfw_site=mmajunkie&ref_src=twsrc%5Etfw&ref_url=https%3A%2F%2Fmmajunkie.com%2F2018%2F05%2Fjon-jones-ufc-champion-without-belt-daniel-cormier
Thanks brother, yeah I know I don't need to hold that belt to be the champion. Sure the whole top five knows that too https://t.co/6UfzdcX0Nr

— Jon Bones Jones (@JonnyBones) May 30, 2018
Jones then followed up on his opinion by stating why he believed he was the champion and how he still had great things to do: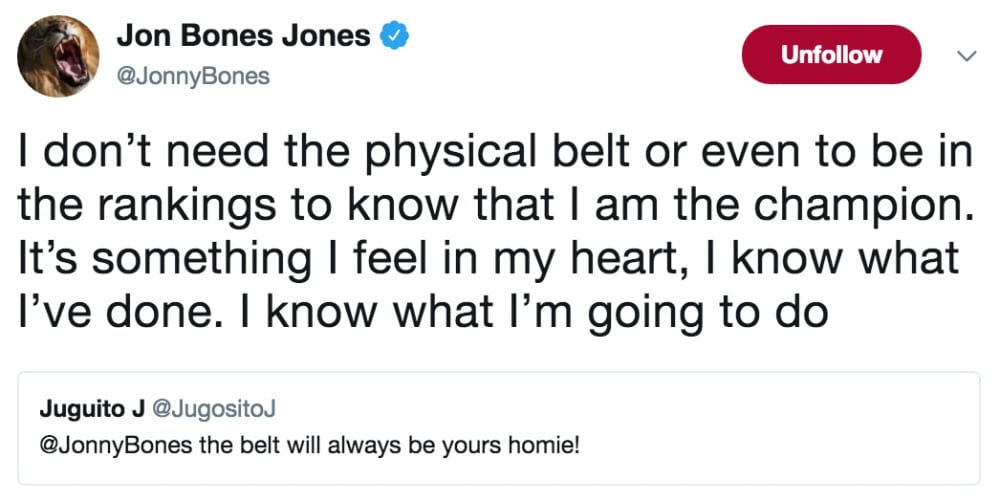 The legendary former champion certainly still has time to live up to his all-time greatest potential, but he may be slowly running out of it as his outside-the-cage issues with drugs both performance-enhancing and recreational in addition to alcohol.
Jones had his fighting license revoked and was fined $250,000 by the State of California in February this year after testing for Turinabol prior to his third-round knockout over archrival Daniel Cormier in the main event of UFC 214. He returned to fight on the card less than a month after he was suspended before his scheduled rematch with Cormier at 2016's UFC 200 for testing positive for two other banned substances.
He now awaits punishment from USADA, who could hand him a very significant sit on the sidelines. Cormier, meanwhile, will go on to face heavyweight champion Stipe Miocic in the main event of July 6's UFC 227, a bout Jones was most likely headed for if he stayed out of trouble.
Unfortunately for him, he's been unable to accomplish anything resembling that in the last few years.
He still feels he's the champion nonetheless. When will be able to prove in the octagon?