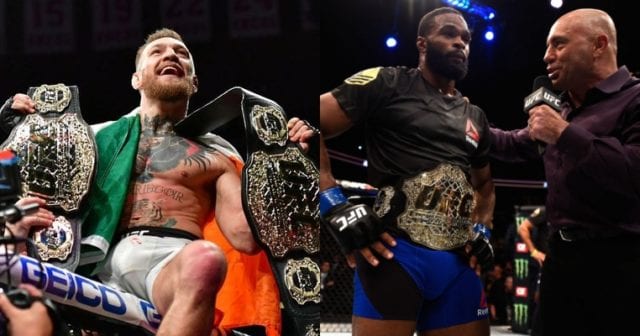 After the madness of UFC 205, the dust is now starting to settle. Arguably the biggest UFC event of all-time, the New York debut could not have gone better. Following the highly disappointing UFC 200 card back in July, this weekend's action was refreshing in its entirety. Eddie Alvarez and Conor McGregor headlined the stacked card at the MSG (Madison Square Garden), on an evening filled with all the highs and lows of an instant classic event. Fighting for his own piece of history in the main event, McGregor made an incredible statement.
'The Notorious' was simply on another level at UFC 205, and Alvarez looked lost in the octagon. Like he'd never been before, 'The Silent Assassin' was controlled and put down with hitman-like accuracy. Eventually crumpling Alvarez at the eight-minute mark, McGregor stamped his name in the history books with conviction. Now the first champion to ever hold simultaneous titles in the UFC, the doors for many potential fights are wide open.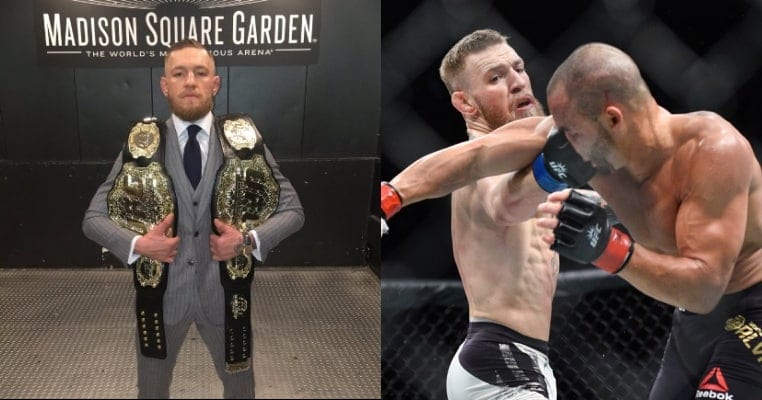 Who's Next?
Speaking during his most recent podcast series The Joe Rogan Experience, the popular color commentator discusses being live in NYC for McGregor vs. Alvarez:
"It was the biggest card we've ever put together. It'll never be like that again, that was the last block of corruption standing in the way of the UFC in New York. The main event was almost bizarre, it's almost bizarre the way he picked apart Eddie Alvarez. Like magical is almost the word I want to use. He touches motherf*ckers with that left hand."

"The moment Eddie got hit, he was like 'What the fuck?' I just think Conor knew that he had him. He's such a unique personality, but it's also his style. He does a lot like what Wonderboy does, but with less kicks, but I think he does it better. It may be something he does with the focus of his shots, the precision. He's hitting them in a surprise way, and he's not telegraphing it at all. There's no fat in his movements."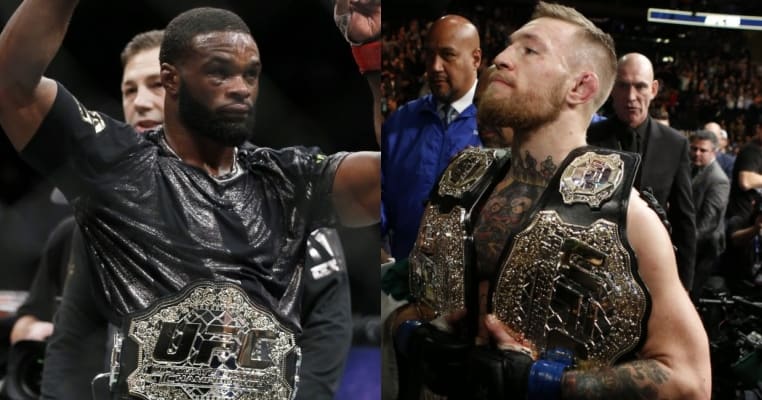 All The Belts!
After their confrontations leading up to UFC 205, there's been a lot of debate about Tyron Woodley vs. Conor McGregor. 'The Chosen One' retained his title with a thrilling majority draw in the UFC 205 co-main event, earning 'fight of the night' against Stephen Thompson. Rogan believes the UFC should allow McGregor the title shot in a third division:
"Let him try, I say they should let him try. I know what Woodley would say, he'd say 'Let him try." Do you know how big Tyron Woodley looks compared to Conor McGregor? He is jacked, he's the most jacked dude, I think, other than Yoel Romero."
Whether you love or hate him, it's hard to argue against Conor McGregor's vast influence on the UFC and MMA as a sport. Holding two belts, it's conceivable he'll try for another, but where will it all end? Will the UFC force McGregor to vacate or defend before a potential fight against Tyron Woodley?
If you enjoyed this story, please share it on social media!