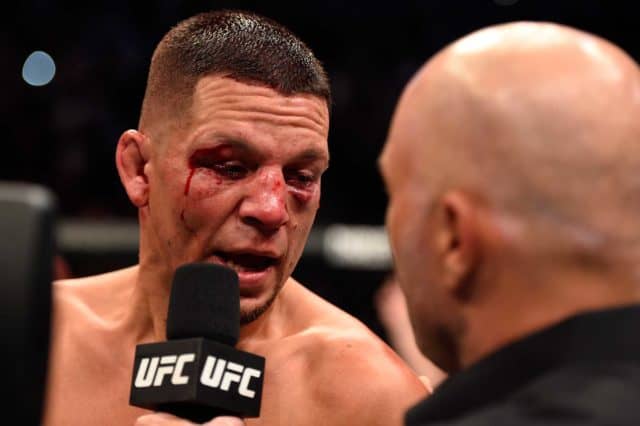 Nate Diaz has made it clear that he's only interested in fighting again if the UFC offers him a trilogy bout with reigning lightweight champion Conor McGregor. In fact, Diaz recently said that he won't even answer a phone call unless the UFC is looking to pay him $20 million to fight.
Diaz and McGregor first fought at UFC 196 where Diaz submitted the Irishman in the second round. The rematch then took place at UFC 202 where McGregor scored a majority decision victory.
While both UFC 196 and UFC 202 sold very well, much of that financial success was due to McGregor, as the "Notorious" one is the biggest pay-per-view (PPV) draw in the sport. Because of that, UFC commentator Joe Rogan recently said that it's 'hard to justify' paying any fighter $20 million other than the Irishman:
"Let's break this down," Rogan said on an edition of his podcast. "Let's say they do a million pay-per-view buys, which is top end. Only a few people have ever sold a million pay-per-view buys like Brock (Lesnar), Ronda (Rousey), Conor (McGregor) … that's it. A million's top of the food chain So a million pay-per-view view buys at 60 bucks, you're taking one third off the bat for Nate. It's really hard to justify someone [earning] $20 million for a fight. It's going to be really hard. Conor's like one of the only guys that can get that kind of money."
Continuing on, Rogan implied that Diaz simply isn't that big of a star without McGregor standing across from him:
"Here's the thing, if Nate had a legit fight with someone other than Conor that was exciting. The problem is there's no one else in the division that's got that kind of marquee value. I think Nate is a fucking huge dog, especially now. After he beat Conor he was one of the biggest stars outside of that upper echelon pay-per-view level, but he's not a world title holder right now."
What do you make of Rogan's comments?
If you enjoyed this story, please share it on social media!