Joe Calzaghe Sees Decline of Boxing, Rise of MMA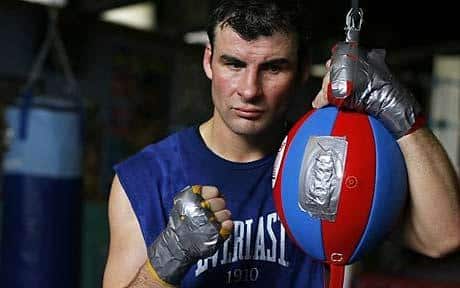 (The duct tape sponsorship proved to be one of Calzaghe's best career decisions.)
Undefeated boxing champ Joe Calzaghe says he's glad to be ending his career in the sweet science rather than beginning right now, because the combination of boxing's self-defeating bullshit and the increasing interest in MMA (or UFC, as he calls it) could spell doom for the sport.  According to an AP story on NBC Sports, the champ isn't very optimistic at all about the future:
"I think boxing is a dying sport. Globally — in America for instance — you've got UFC, which has taken a lot off boxing, business-wise," Calzaghe said, referring to the mixed martial arts Ultimate Fighting Championship.
"There is too much politics in boxing, too many belts and too many champions, which dilutes real champions like myself," he said. "There are four world champions in each division and it's bad because there are no stars any more. It's a big problem."
While it might be a bit too gloomy a forecast to say that boxing is truly dying, especially after De La Hoya-Pacquiao just pulled in around 1.25 million pay-per-view buys, it's kind of nice to hear a boxer who's fed up with the path boxing has taken.
Even when the UFC pulls hardball tactics and throws their weight around in contract negotiations, it's still better than what's happened to boxing, which is as complicit in its own decline as any major sport ever has been.