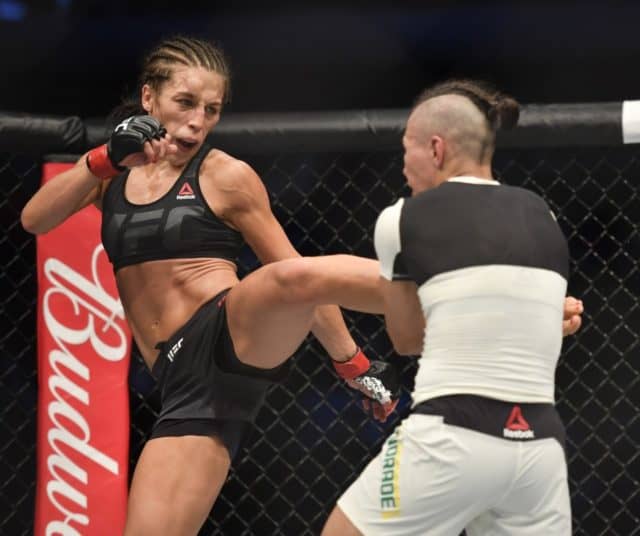 UFC women's strawweight champion Joanna Jedrzejczyk is just one win away from tying Ronda Rousey's record for the most consecutive title defenses made by a female fighter, and it sounds as if the Polish champion has an idea of where she'd like to make that next title defense:
"I would like to fight in New York in Madison Square Garden in November," Jedrzejczyk said today during a "Women of the UFC" panel at Park Theater in Las Vegas (Via MMAFighting). "I want to be back in the historical place."
A pay-per-view isn't currently scheduled for November, although it's expected that the UFC will return to the Empire State around that time.
"Joanna Champion" fought at Madison Square Garden last November, scoring a decision victory over Karolina Kowalkiewicz in a five round thriller at UFC 205. She followed that up with an impressive showing at UFC 211, scoring a one-sided victory over Jessica Andrade.
Since her most recent victory, Jedrzejczyk has been quite busy, and she admitted that she hasn't had much time to train:
"I don't have time for my sponsorship and media obligations home in Poland, so the last five weeks were crazy," she said. "I didn't have time for training. But it was good. I could relax, physically, mentally and spend some time with my friends. It was nice."
Despite her hectic schedule, Jedrzejczyk has her sights set on returning to the Octagon in the near future, but she plans to have a discussion with UFC President Dana White beforehand:
"Dana is on vacation, so I didn't call him," she said. "But I texted with him, and I'm going to fight again. But let's sit and talk."
Who would you like to see the 115-pound queen take on next?
If you enjoyed this story, please share it on social media!