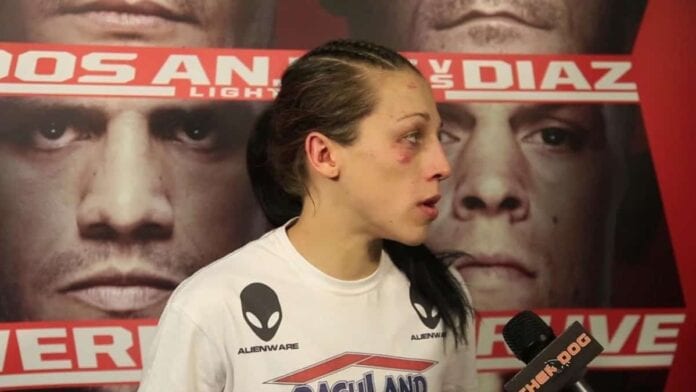 Although reigning women's strawweight champion Joanna Jedrzeczyk recently announced that she thought that she wouldn't need surgery on her injured thumb, it looks as if things have changed and she indeed needed surgery. The Polish star took to her official Instagram account to announce that she has undergone successful surgery, but her plan of fighting again before the end of the year is still in tact:
Jedrzeczyk burst onto the scene when she took on former champion Carla Esparza at March's UFC 185, completely demolishing her to steal the belt. She then main evented her first show a few weeks back, meeting highly-touted contender Jessica Penne in the main event of UFC Fight Night 69 (June 20, 2015).
Once again, it was the Jedrzeczyk show as the Polish striker stuffed takedown after takedown to keep the fight on the feet just where she wanted it. On the feet, "Joanna Champion" used her picture perfect technique including rapid punches, kicks, knees and devastating elbows to absolutely brutalize Penne. After just three rounds, Penne was left a bloody mess, and the referee was forced to stop the action.
Having undergone surgery, the champion may need to take some time off now, but the timing for her next title defense may work out perfectly as it is expected that Jedrzeczyk will meet the winner of Claudia Gadelha, who Jedrzeczyk edged out a split decision over last December, and Jessica Aguilar. Gadelha and Aguilar are set to meet at August's UFC 190, making the end of the year an ideal time for the winner to meet the brash Polish champion.
With her devastating in-cage skills, and her highly entertaining mic skills, Jedrzeczyk has all the tools to be superstar in the making. She has said that nobody in the division is ready for her, but do you think Gadelha or Aguilar could offer up a challenge?