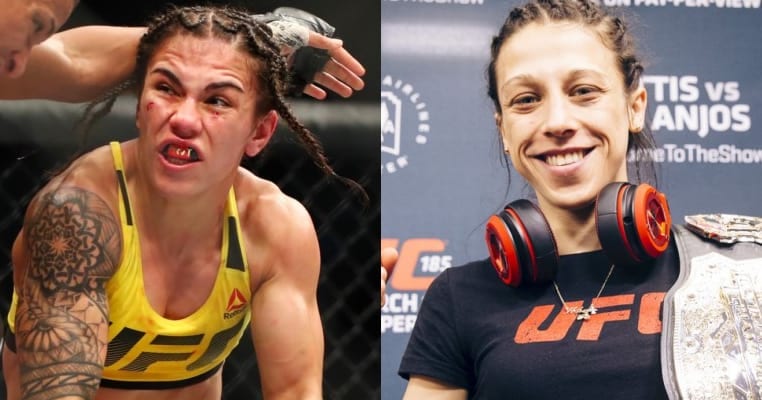 No. 5-ranked UFC women's strawweight contender Jessica Andrade established herself as the next 115-pound title contender with an exciting unanimous decision victory over Invicta FC champion Angela Hill at last night's (Feb. 4, 2017) UFC Fight Night 104 in Houston, Texas.
Not only is Andrade eyeing a fight with champion Joanna Jedrzejczk next, but she feels as if she should now be considered the Invicta champion as well:
"I think by beating Angela today, I became Invicta champ," Andrade said (Via MMAJunkie). "So I want to unify my belts. I want the opportunity to fight Joanna. Joanna, do you want a fight? I'm here. April, May, June – it doesn't matter the date. I'm ready. I'll fight you no matter what happens."
Speaking on her fight with Hill, Andrade said that she could have taken the fight to the ground, but she elected to stand and strike, which is why the fight ended up being as intriguing as it was:
"It was an incredible fight," Andrade said. "I didn't imagine that Angela would be able to take so many shots, and I was able to give it my best. I could have taken the fight to the ground. I could have submitted (her), but I wanted to strike. It was an incredible fight. I can only be thankful."
UFC President Dana White shared the same sentiment:
"In the women's divisions, that's one of the greatest fights you'll ever see," the UFC boss said. "I mean, that fight was incredible. Both girls were getting hit with bombs. What a great fight."
How do you expect Andrade to match up against Jedrzejczyk?