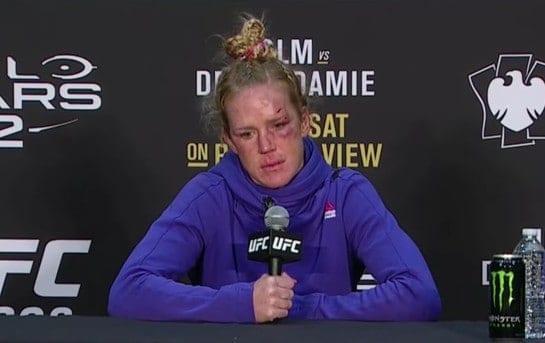 The UFC now has a women's featherweight champion, and her name is Germaine de Randamie.
In the main event of last night's (Sat. February 11, 2017) UFC 208 pay-per-view (PPV) from the Barclays Center in Brooklyn, New York, De Randamie took home a controversial unanimous decision win over 'The Preacher's Daughter' to become the first female 145-pound champ in promotion history. During two separate occasions 'The Iron Lady' hit Holm with strikes after the bell and did not have a point taken away by the referee.
All three of the judges' scorecards read 48-47 for De Randamie, but had the point been deducted the contest would have resulted in a draw; with no champion being crowned.
During the post-fight press conference (quotes via FOX Sports) Holm expressed that she felt as though she took three rounds of the contest, but admitted she was slow to get into a rhythm while her counterpart started off strong:
"I felt like she started a little strong and I thought I had the better of her the last three rounds," Holm said. "I had her dropped twice. I know what my capabilities are, I didn't do as much damage as I wanted to do when I had her on the cage. But as far as controlling the pace and controlling the fight, so yeah the fight could have gone either way.

"I felt like I had three rounds. I also had her rocked twice and didn't capitalize on it and that's my own fault."
In regards to the late shots by De Randamie, Holm feels as though they were intentional and is surprised that a point wasn't taken after the second incident:
"A lot of times with the first one they give a warning. That's kind of normal. I wouldn't expect them to take a point after the first one, even though it was intentional. Then the second time, you'd think at that point they'd do something but I'm one of those people that feels I should not have let her done it anyway. Yes, it's after the bell, I heard the bell, I stopped. It wasn't like the last punch of a combination when the bell rang. Like it was intentional, it was after the bell," Holm said. "Those were some of her best shots of the whole night after the bell and I don't know how the judges saw that.

"If they see that as points for her then what can you do? It's like I should have kept fighting, too."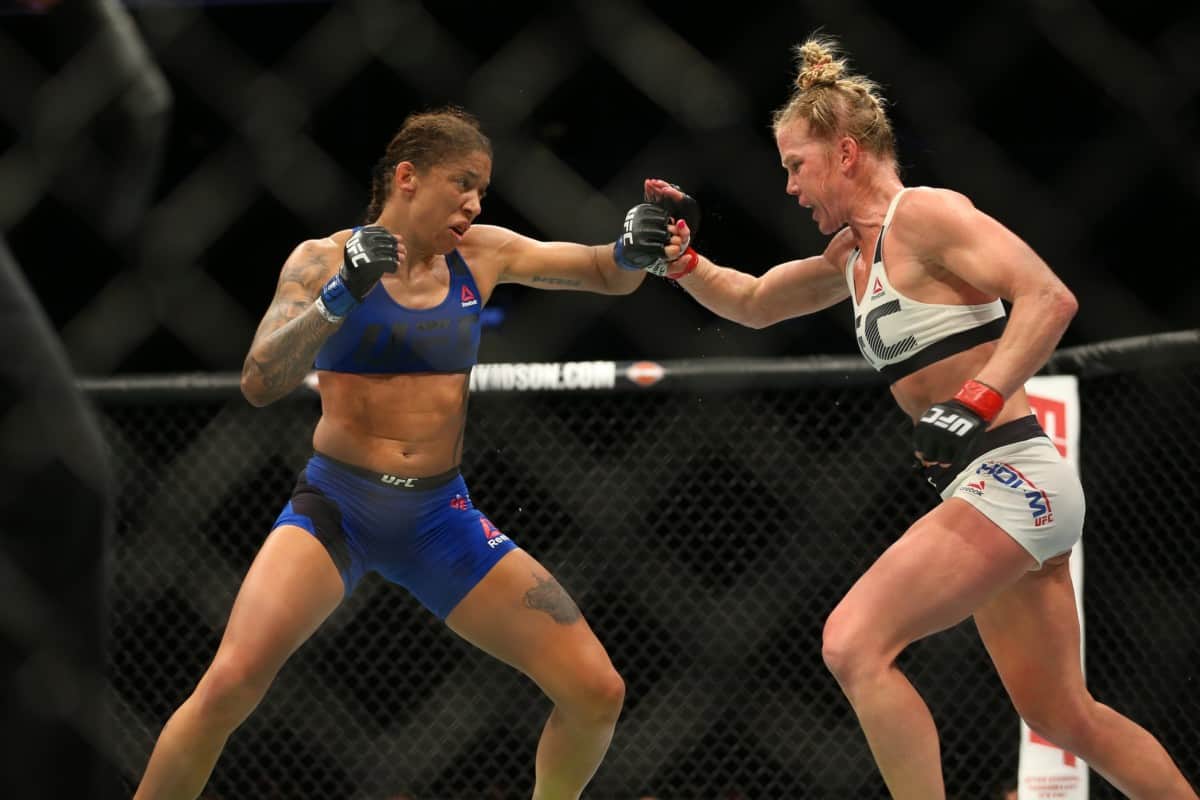 With the loss last night Holm is now 0-3 since her monumental win over Ronda Rousey in 2015. Holm believes the controversy surrounding her bout with De Randamie warrants an immediate rematch, but is open to stepping into the Octagon with anyone the UFC throws at her next:
"If they see that as points for her then what can you do? It's like I should have kept fighting, too. I'm sitting in a spot where my last fights I'm 0-3," Holm said. "I'm going to take whatever they'll give me."
With Cyborg waiting in the wings for the next crack at the 145-pound title as well, who do you think will challenge the new featherweight champ for her throne first?
If you enjoyed this story, please share it on social media!