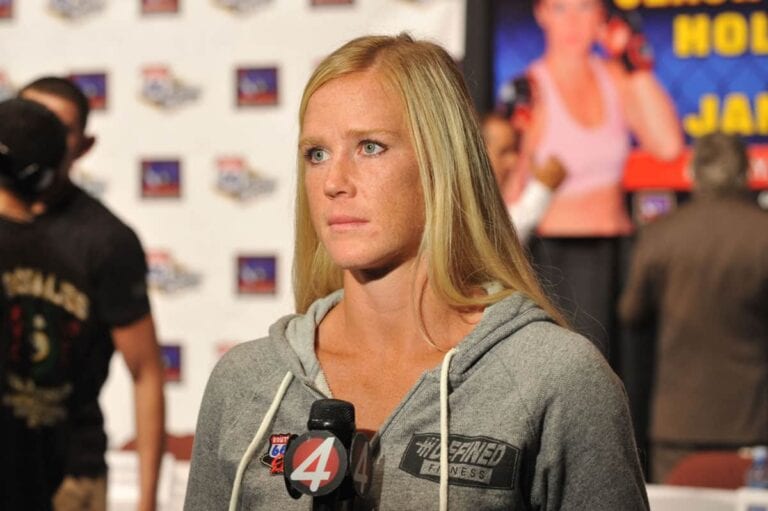 Unlike many of Ronda Rousey's past victims, Holly Holm, who Rousey meets at this weekend's UFC 193 from Australia, may be the most familiar with the spotlight that comes with fighting at the highest level. Of course fighting Rousey is like no other, but as a 17-time boxing champion, "The Preacher's Daughter" has a plethora of experience under her belt.
That being said, Holm is confident going into this Saturday's affair, admitting that she visualizes herself getting through a tough position, and ultimately securing the victory:
"If you can't visualize it [the victory], you won't attain it," Holm said at the UFC 193 open workout media scrum in Melbourne, Australia. "You can't get it. If you don't think it's going to happen, it's not going to happen. It is mind over matter. Yes, it's all the hard work and all that as well, but you have to visualize it. If you're walking in there thinking you're not going to do it, well you've set that fate for yourself. You're not going to do it.
"So I do, I visualize the victory, but I visualize myself going through a tough situation to get there. I visualize myself being in a really bad situation and coming out of it. There's 25 minutes in there to not mentally break."
"The Preacher's Daughter" believes that confidence is everything in a sport like mixed martial arts (MMA). She claims that without becoming over confident, she has trained harder than ever, and is expecting it to pay off come fight night:
"If you look at her success as well, how do you think she got there? She's believed in herself," Holm said. "There's a lot of things to that. You don't want to be overconfident to where you don't train hard, you know? I know that it's a very hard task at hand, so I've been training my butt off, which has also given me more mental strength. The more I train, the more I feel like, 'You know what? It's so much hard work, it's going to pay off.'"
Although her decorated boxing background and years of experience will benefit her, Holm said simply that this is an MMA fight, not a boxing fight, but she will indeed use some of the skills she's inherited throughout her career:
"I've seen a lot of different styles of fighting, [I've] had to adapt to a lot of different things in a fight, and those are the biggest things that are going to help me," Holm said. "This is an MMA fight, not a boxing fight, so I'm not trying to rely only on my boxing experience and background, but I am going to take the things that it has prepared me for and use those for this fight and then just put that in with everything I've learned.
"She's [Ronda has] come into her own. Obviously, she has knockouts on her record, so I don't overlook her standup, and I feel like she's very well rounded. So yes, I think that a lot of the experience from my standup fights will help me to do well, but like I said, I'm there to compete in every aspect of it and not just worry about the standup."
Rousey has been absolutely dominant during her UFC run, and she will be a massive favorite because of that.
Does Holm stand a chance at dethroning the 135-pound queen?