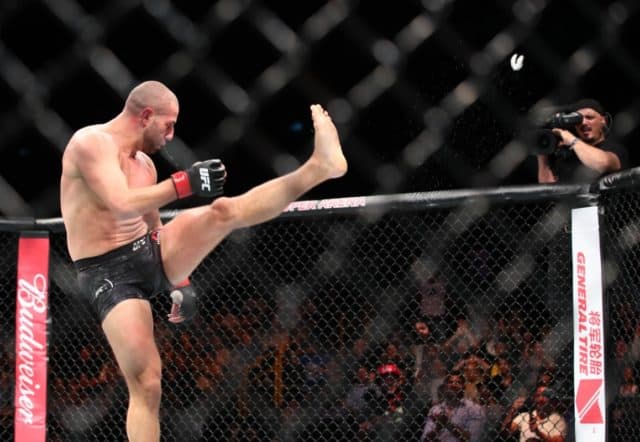 Ex-Glory kickboxing champ Gokhan Saki made his presence felt in the UFC with a vicious first round knockout debut win over Henrique da Silva at UFC Fight Night 117 in Japan this past Friday (Sept. 22, 2017).
Saki showed off a tremendous striking ability, that even after just one fight rivals the likes of the most elite the UFC has to offer in any weight class. In a thin upper tier at light heavyweight Saki could possibly see a quick shot at the 205-pound throne with a couple more impressive performances, and "The Turkish Tyson" knows it.
During an appearance on The MMA Hour earlier today (Mon. September 25, 2017) Saki made quite the bold prediction by vowing that by this time next year he will be a UFC champion (quotes via MMA Mania):
"I will be moving to the US to start training there for a while and I hope to fight this year one more time," said Gokhan. "Next year this time, I am fighting for the title and I am the champion. I will be fighting for the title and I will take the title. Give me that time, and it will be exciting, I promise you," he added.

"100-percent. That is in my mind and I have proved to myself that if I want something, I will make it happen. This is something that I always see in my career. At this moment This is my point. I want the title and I will take it no matter what."
Although he may be a tad undersized for the light heavyweight division, Saki expressed no interest in moving down to middleweight to try his hand there. While the elite wrestlers at the top of the division may pose a huge threat to his title aspirations (such as current division king and former olympic wrestler Daniel Cormier), it should be interesting to see how the UFC matches Saki up moving forward in his tenure with the mixed martial arts (MMA) promotional powerhouse.
If you enjoyed this story, please share it on social media!