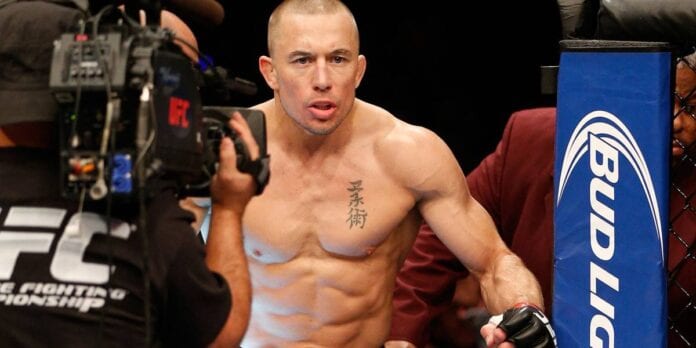 Former two-division UFC champion Georges St-Pierre had a storybook return to MMA after taking four years off.
There were some people who believed that GSP was targeting a fight with UFC lightweight champion Conor McGregor for his UFC return due to McGregor being a draw on pay-per-view.
Instead, GSP ended up going after another title.
St-Pierre returned last month to win the middleweight title with a submission victory in the third round over Michael Bisping at UFC 217.
Now, he is on the sidelines as he deals with colitis. There is speculation that GSP is once again targeting a bout with McGregor.
St-Pierre's head coach, Firas Zahabi, said in an interview with TSN over the weekend that GSP intended to take care of his health issues and then he would come back for whatever was the most interesting "mega-fight" possible.
He also tossed out a possible fight with McGregor or boxing legend Floyd Mayweather Jr.
"I think Georges is gonna get better, get back in the gym," said Zahabi (transcript courtesy of MMA Fighting). "He's gonna feel his body out and see what he wants, what's the most interesting, epic fight out there. Mayweather? McGregor? We need a mega-fight. Georges will come back for a big, exciting fight."
The main complaints from fight fans and fighters of the UFC over the last few years is the fact that the promotion is looking to book "money-fights" that disrupt the traditional structure and direction of weight classes and titles.
A perfect example of that is GSP getting a title shot after not competing in the division and fighting for several years. Also, the division is backlogged worth of title contenders.

Zahabi argues that those complaints shouldn't apply to St-Pierre because he already paid his dues.
"I always tell people, if you're criticizing Georges, do what he did," Zahabi said. "Do what he did first, then criticize him. It's not easy to do what he did. He defended the title over and over again. Lots of guys had their chance. Lots of guys had their chance. Get in line, make their way the way he did it. And when he did it he never complained about nobody. He did it without complaining about anybody.

"Has he helped grow the sport or hurt it? He's helped grow it. So a lot of guys making bigger paydays and bigger purses, bigger bonuses, why? Because of the company and the great fighters, not just Georges, all these great fighters and the company. It's a relationship. We've got to respect the company, we've got to respect all the fighters, you've got to respect all these big names making the way. You're gonna see, in the future, these guys are gonna sign rookie contracts, first year in the UFC, million dollar contracts. But why? Because of all the greats that came before."