Former UFC welterweight champion Georges St-Pierre is still considered among the greatest fighters of all time, and his influence on 170-pound history is simply undeniable. He was one of the most dominant fighters in a heavily talented welterweight division, rising to the top by beating fellow legend Matt Hughes in their second fight in 2006. It seems a lifetime ago that GSP won that belt at UFC 65: Bad Intentions, and it's crazy how much things have changed in the ten years since. The sport has rolled on without the physical presence of 'Rush' for nearly three years now.

After defeating Johny Hendricks in a highly debated UFC 167 split decision, a clearly disheartened St-Pierre gave up the belt and walked out of the limelight. That moment created months of chaos, and ever since the fight game has collectively wondered if/when GSP will return. With the historic UFC 200 just around the corner, the rumours of a return for 'Rush' have been rampant.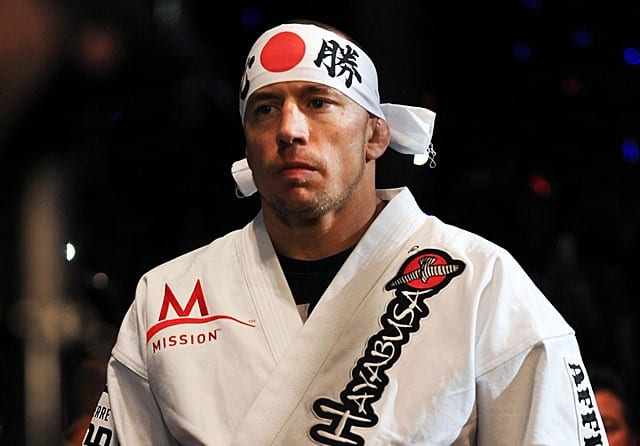 It would seem fitting for GSP to comeback at the second milestone event for the promotion, as he fought Thiago Alves at the UFC 100 blockbuster card, which remains the biggest pay-per-view card for the promotion to date. One fight that is often referenced to when discussing St-Pierre is the first fight with Matt Serra, which was also the French Canadian's first title defense. After decimating Hughes the fight before, many believed GSP would steam roll over Serra, who was coming off a victorious stint on the Ultimate Fighter 4 to get the title shot.
What happened is still widely considered as the biggest MMA upset ever, as Serra caught St-Pierre with some hard punches, flattening him to steal the belt in a wild frenzy.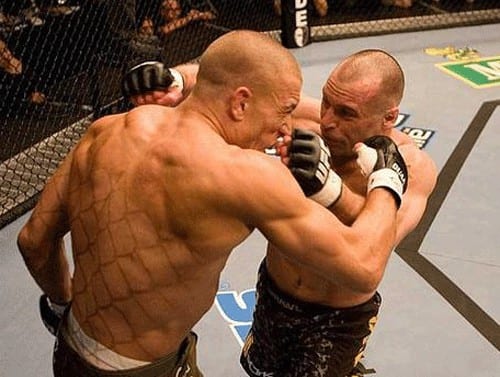 continue the story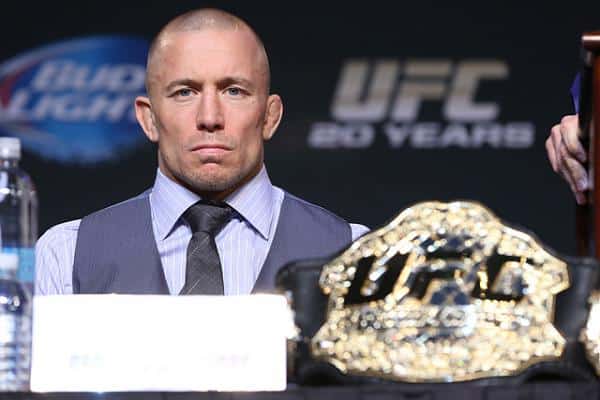 As transcribed by FOX Sports, Georges St-Pierre gives an interesting insight in to the first fight with Matt Serra. St-Pierre would go on to reclaim the title at UFC 83, but nothing could erase the memories of that shocking TKO loss to Serra. Check out the interview:
"I became champion, I beat the greatest welterweight in the world back in the day that was Matt Hughes, who seems to be invincible back in the day and I beat him. So now I become the new greatest thing in the sport and everybody tells me how great I am and stuff and I started to believe in my own hype," St-Pierre revealed when speaking to Joe Buck on "Undeniable".
"The next opponent is Matt Serra, a guy that came from a reality show back in the day. He was a veteran in the UFC but nobody really gave him a chance against me. So I'm going to fight this guy that basically everybody tells me that I'm going to walk through him and I start kind of believing in my own hype."
"I train but I don't show the same intensity and I start to believe it's going to be an easy fight until the night of the fight, they come to pick me up in my locker room, I remember how it happened," St-Pierre explained. "The guy comes in the locker room, it's my turn to fight, he walked in the door 'St-Pierre you're up next are you ready?' and when he asked me this question 'are you ready?', I said to myself 'shoot, now I'm not ready'.
"I should have put more into this and now mentally I got broken. As I'm walking to the Octagon, if you see that fight, I'm walking and I'm like '(expletive) I'm really not ready for this". Now I'm doing the opposite of what I should do to boost myself and walk like it's impossible to fail. Now I'm walking like (expletive) I'm going to a funeral or something."
"The fight starts, we touch gloves, and after a few seconds I got tagged — bang — by a big right hand. He hit very hard," St-Pierre described. "I lose my equilibrium and I remember when it happened, I lose my equilibrium, everybody's looking at me, and I'm going to get beat by this guy that I'm supposed to walk through and I'm like no way. I got angry."
"I'm thinking I'm going to give it back to him right away so it's the worst thing you can do when you get caught in a boxing fight or a martial arts fight, when you get caught you need to step back and recuperate. My emotion took over because I'm a very proud person and I want to give it back to him right away," St-Pierre said. "So I'm stepping into basically a slugfest and what happened was he's 100 percent, I'm the one who's dizzy, so when you're dizzy you're not accurate and I'm the one that's getting hit in the slugfest.
"I'm getting punched until I fell on my back and he's on top of me. I'm thinking 'I'm basically getting pounded', I don't know where is the ground, up down, sideways, so I tap out."
"Now it's the humiliation. The biggest humiliation of my life," St-Pierre said. "Even the odds were like 11-to-1. It was crazy. It was one of the biggest upsets in UFC history, maybe the biggest one. I'm not too proud about it."
"I give credit to Matt Serra because probably on his side, probably people used to tell him the same thing 'oh you're going to get killed' and he didn't care and he believed in himself and he beat me fair and square and it was just a great learning experience for me,"