One of the bigger – and perhaps the largest – messes in a down first five months of 2017 for the UFC was the failed attempt at booking longtime welterweight boss Georges St-Pierre's awaited comeback fight against current middleweight champion Michael Bisping.
The bout was announced in March, with the promotion putting on a hastily thrown-together press conference at UFC 209 despite the fact that St-Pierre repeatedly insisted he wouldn't be able to make it to the cage until October at the earliest (even if Dana White wanted him to fight in July) and Bisping having undergone knee surgery not long before the announcement.
That justifiably lead to mass outcry from the majority of the currently jam-packed middleweight landscape, with everyone from Luke Rockhold to Anderson Silva calling the fight a terrible decision that only served to further delay the champion defending against a truly deserving title contender. The wheels predictably fell off the bout when the superstar released a video reiterating his stance that he could only fight after October. White then announced that they would no longer wait for "Rush" to return and Bisping would fight consensus contender Yoel Romero for the belt.
But with "The Count" allegedly still nursing a knee injury, the promotion was left with no other choice to book Romero vs. surging young contender Robert Whittaker for the interim belt at UFC 213, somewhat solving the puzzling title picture that will only come together when Bisping is able to defend the belt. He's been holding out for the huge payday St-Pierre will no doubt bring, and indeed the fight may still happen.
However, as we wait to see what happens in the head-scratching mess that has followed the fight's original unveiling, St-Pierre came out with some revealing information as to just why he could not fight this summer. Speaking up in an interview with Justin Kingsley at today's C2 Montreal conference (via MMA Fighting), the MMA star detailed an eye injury that will keep him from sparring until the fall:
"Trust me, I'm not the kind of guy who thinks, 'Hey, I'm going to make everybody wait for me. I don't want to fight during the summer, I want to take my time …That's not the reason. If it were up to me, I would come back. The reason is I had a problem with my eye. I had an injury. My vision has not been back yet. It will be back. It's something very minor. The doctor insisted for me that I don't spar until September."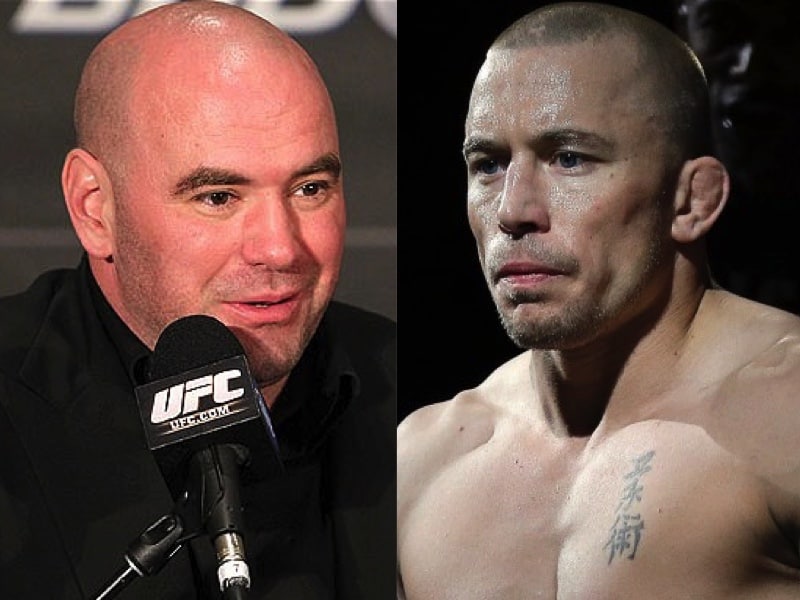 And while the UFC still lobbied him to fight in July, St-Pierre insisted they knew the timetable for his comeback but staged the press conference anyway:
"The UFC was aware of it. They knew I couldn't fight during the summer, but they still insisted on doing that press conference with Michael Bisping. And when it happened, we were not very excited about the idea, but we wanted that fight, so we decided to do it, but then it turned into a negative thing because it took so long.

"But UFC knew. Everyone knew. The people concerned knew that that was the case, but they still tried to put pressure on me to fight in July. That's the reason why I'm coming out public today about the reason why I'm not fighting this summer."
So many fans and media members may be growing impatient about the superstar's highly anticipated and long-awaited return but the longtime champion reaffirmed his belief that he has to be in the best shape possible if and when he faces the middleweight champion, because he's putting his nearly spotless legacy on the line by even setting foot back in the octagon:
"I always said that if I was coming back to fight, it needed to be a fight that excites me. I wanted to fight Michael Bisping because I wanted to fight someone that could elevate me. Michael Bisping is the champion now, and I think that he could elevate me as much as I could elevate him. I'm taking a huge risk coming back. I'm putting my legacy on the line."