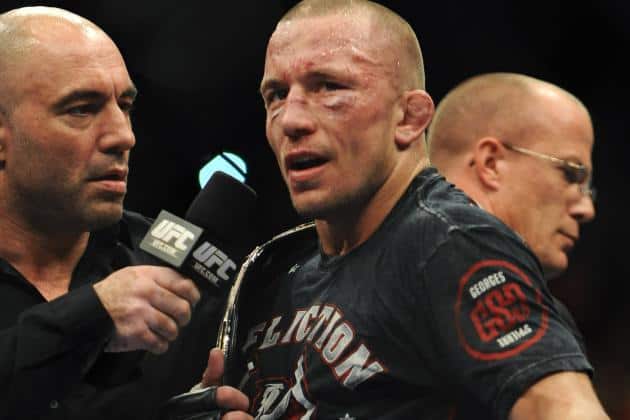 Last week, former longtime UFC welterweight champion Georges "Rush" St. Pierre shocked the MMA world when he said that his lawyer had terminated his UFC contract, making him a free agent. This announcement all but confirmed that St. Pierre would not be making his long awaited return at Dec. 10's UFC 206 from his home of Canada, a possibility that seemed very likely not too long ago.
A glimpse of hope once again emerged yesterday (Oct. 25, 2016), however, when middleweight champion Michael Bisping announced that he had verbally agreed to a bout with St. Pierre at UFC 206. "The Count" also urged "Rush" to 'sign the papers'. Fight fans were excited for a moment, but UFC President Dana White quickly denied the report.
Today (Oct. 26, 2016), the nail was put in the coffin, as St. Pierre responded to Bisping with a video message. The ex-champion expressed his interest in the bout and said that he had made 'peace' with White after difficult negotiations, but also confirmed that he would not be fighting at UFC 206:
Message to Michael @Bisping pic.twitter.com/coe1zBuvXj

— Georges St-Pierre (@GeorgesStPierre) October 26, 2016

While it's a shame that one of the sport's biggest-ever stars won't be making his comeback in the coming months, perhaps the fact that St. Pierre has made amends with White is a good sign.
Do you expect to ever see "Rush" back in the Octagon?
If you enjoyed this story, please share it on social media!