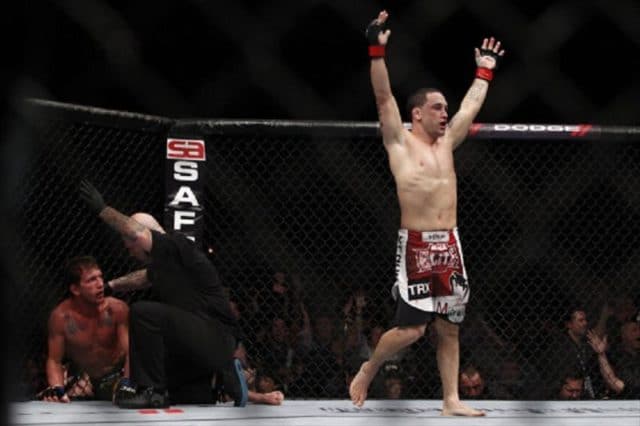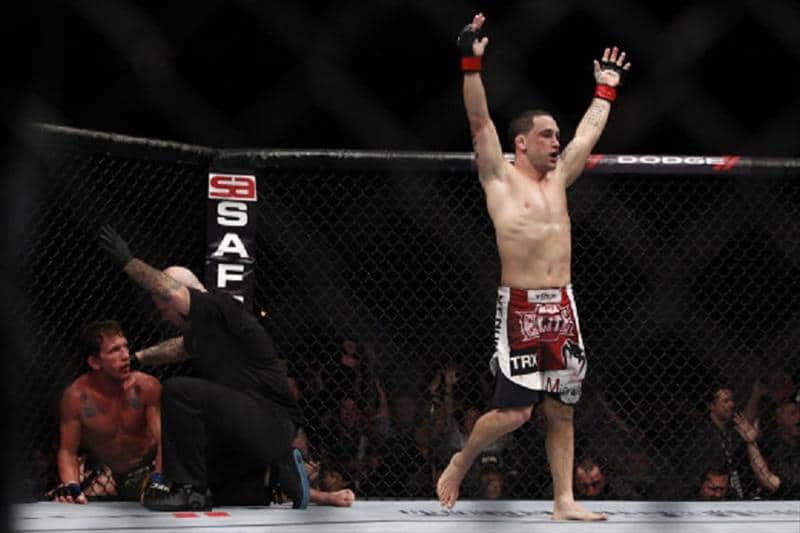 Surging featherweight contender and former lightweight champion Frankie "The Answer" Edgar will finally get his chance to avenge his loss to Jose Aldo at July 9's UFC 200 from Las Vegas, Nevada. The two met back in 2013 for Aldo's then-held 145-pound title in a close fought five round affair that Aldo came out of the victor.
This time, an interim title will be on the line, as Aldo surrendered the strap in brutal fashion to Conor McGregor last December. McGregor then decided to move up in weight and challenge Nate Diaz at UFC 196 in a bout where he was submitted in the second round.
McGregor will now look to avenge that loss at August 20's UFC 202, putting the featherweight division on hold once again.
Edgar, however, is simply focused on the gold, and he plans to beat Aldo before hopefully facing off with McGregor for the undisputed title at November 12's UFC 205 in New York:
"You can't write something better than that," Edgar said on Monday's edition of The MMA Hour. "Why wouldn't Conor want to fight at MSG? There's definitely a big Irish contingency in New York and it could be possibly biggest fight UFC history."
Of course this potentially massive fight would require McGregor to drop back down to featherweight, something he has yet to do since capturing the title. Edgar for one isn't sure if the Irishman will ever defend his crown:
"At '45, he has everything to lose," Edgar said. "At '70 he has nothing to lose, even though Nate is a '55 pounder and they decided not to cut weight, so they can market going up two weight classes which is ridiculous since he's a 55 pounder … at '45, if he loses, he has nothing. He has a hard time making the weight. If he goes to 55 he's not going to be in the title talks for awhile."
As far as how Aldo will rebound from his devastating loss to the "Notorious" one, Edgar says that we won't know until "Scarface" shows up to the Octagon:
"To be so dominant for this long, and then to lose like that, Conor is worst guy to lose to in that fashion," Edgar said. "He already let the world know before and he let the world know after. He digs better than anybody. Some guys get through it and some guys don't. He may say this or say that in the leadup for the fight, but even he won't know until he steps into the Octagon."
If you enjoyed this story, please share it on social media!