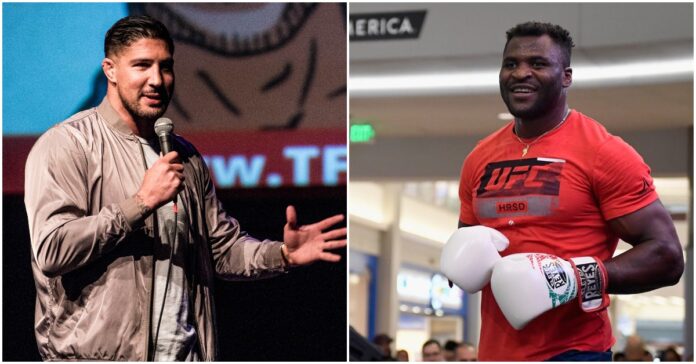 Brendan Schaub has chimed in on Francis Ngannou's ongoing contract dispute with the UFC.
'The Predator' has just one fight left on his current deal ahead of his heavyweight unification fight with his former teammate, Ciryl Gane, which takes place at UFC 270 on January 22.
Ngannou has spoken openly about his contract situation and says that in order to re-sign with the UFC he must be allowed to take big boxing fights.
"Tyson Fury, Deontay Wilder. I would like to test myself to that level," Ngannou told TMZ Sports. "It's not the same sport, although I'm the champion, I'm in the top in this division. At the end of the day, it's just about like trained hands, trained punches, having a good delivery system to produce bombs and I'm sure that if I deliver my own punch, it's pretty good, I can make some damage."
Brendan Schaub Thinks Francis Ngannou Is Capable Of Upsetting Boxings Best
During a recent episode of his podcast, Schaub suggested that Ngannou's best move is to sign with one of the UFC's rivals who will allow him to explore boxing opportunities while also competing in MMA.
"You could go test the free agency and sign a deal with Bellator or Rizin or One Championship or PFL or Bare Knuckle or something like that," Schaub said. "And you have a stipulation in your contract where you can fight Fury and Wilder and Joshua. One of those fights will pay you more than any organization in the world in MMA could possibly pay you."
'Big Brown' thinks that Ngannou could make at least two major paydays in boxing as any top heavyweight would demand a rematch clause in case the Cameroonian knockout artist sprung the upset.
"Win, lose or draw, you're going to get paid. And not only are you going to get paid. You know it's a big risk especially if you can get it done. Not only are you going to get paid but you're going to get paid twice.
"Nobody's going to sign a one-fight deal to fight Francis Ngannou. There's going to be a rematch clause in there at some point. If Francis were to land one, which he's definitely capable of, he'd knock any of those three out. They're not going to let in him ride off into the sunset." (Transcribed by Mirror Fighting)
Do you agree with Brendan Schaub? Is Francis Ngannou capable of beating the best heavyweight boxers?