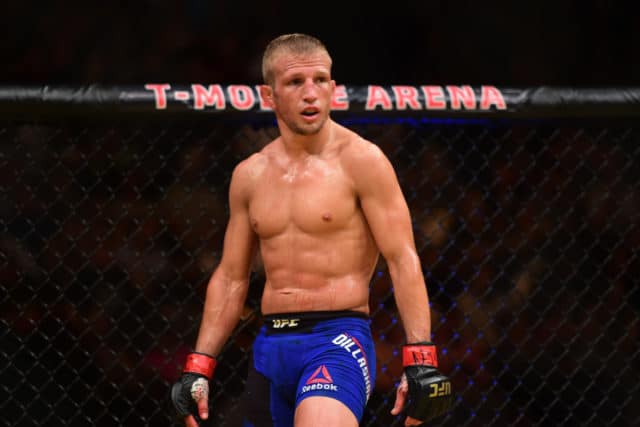 The bad blood that has UFC bantamweight champion Cody Garbrandt and Urijah Faber on one side while former bantamweight champion TJ Dillashaw is on the other only continues to intensify.
When Garbrandt won the bantamweight title at UFC 207, it set up a rivalry fight for one of the hottest feuds in MMA over the past couple of years. The two fighters had been jawing at each other publicly since Dillashaw left Alpha Male.
They both coached the 25th season of The Ultimate Fighter in order to build interest in their title fight at UFC 213 this past summer. However, that bout never took place due to the fact that an injury forced Garbrandt out of the bout. After waiting a little bit, the UFC has rebooked the fight for UFC 217, which is slated to take place this weekend.
If you recall, back in September, Garbrandt and Faber appeared on an episode of The Joe Rogan Experience. During the podcast, both men stated that Dillashaw is well known as a "dirty" fighter in sparring and that he would intentionally try to injure his teammates.
According to the men, Dillashaw wasn't just a hot head, but also dangerous and a liability to his sparring partners. To say that this is a strong accusation would be an understatement. According to Garbrandt, Dillashaw is the one to blame for the long absence of Chris Holdsworth from active competition.
Holdsworth ultimately took an indefinite hiatus away from MMA in 2014 due to lingering concussion-related issues. Now, with the fight just a few days away, Holdsworth decided to speak out about the situation during a recent interview with Ariel Helwani on The MMA Hour.
"I've been quiet about this for awhile," Holdsworth said on The MMA Hour. "I'm just not the type of person to jump into people's feuds or drama. I like to lay low and just do my thing, but there's been some talk, and after I heard T.J. lying about the subject, I've got to speak up on it.

"T.J. has always been a great fighter, he's a great athlete, but he's always had, I don't know, some type of competitive feud with me ever since I came to the team. I don't know if it was because of envy or jealousy or whatever it was, but I just kinda always brushed it off as him being competitive and being, just, ultra-aggressive. I was always up for the fight, but there was multiple occasions where T.J. got a little bit too aggressive, he went overboard in training. He's kneeing you while we're boxing. He's throwing elbows while we're doing jiu-jitsu. And I remember that instance that's out in the public — yeah, it's definitely true.

"I shot in on T.J. and I was on all fours, he was sprawled out and he kneed me on top of the head. And that was before The Ultimate Fighter. I remember I was kinda jarred up and everyone was watching, and I took like 30 seconds off and I kept going, I kept going through the rounds and I finished practice. But after that practice, I was concussed, and that was my first concussion. And it just kinda kept happening from there.

"There was another instance leading up to the Chico (Camus) fight (in 2014), when he was getting ready for (Renan) Barao," Holdsworth added. "And then it comes to where I hear he's on some special supplements and stuff, and I just lost respect for the guy. There's no hard feelings, it's whatever it is, but he's a cheater."
Regarding the accusations of Dillashaw's aggressive methods against Holdsworth in the gym, he stated that if you asked Dillashaw's past training partners about their experiences with him then it would help tell the story of the former UFC bantamweight champion's gym etiquette.
"He was known to do that," Holdsworth said. "Maybe just because we were in the same divisions, I was on The Ultimate Fighter and I won, and he didn't. I don't know. Who knows? I think, I don't really care. I don't really care. I'm not trying to make it a huge thing. Like I said, I've moved past it, but I wanted to come on and just kinda clear the air and let everybody know my side of the story, because I've been pretty quiet about it for three years.

"You can talk to a lot of his training partners. It doesn't matter if it was on purpose or if it wasn't on purpose, there was multiple occasions where — I'm not trying to throw knees when I'm sprawled out on somebody. It's just something we don't do, and from what recall, he's the type of guy, you get the better of him one day or you get the better of him for one round, he's coming tenfold the next day. He's there early, he's stretching out, he watched film on you and he's trying to figure out everything he's gotta do to get that back on you. There was multiple occasions, and it is what it is. Like I said, I've moved past it and I'm happy where I'm at right now. I'm building world champions and I'm helping guys, so that's kinda where I'm at right now."
Holdsworth would go on to reveal that the reason he decided against taking to the media to give his side of the story is because he "didn't want to seem like a b*tch." However, that all changed once he heard Dillashaw explain his own version of it.
"That's why I've been quiet for so long," Holdsworth said. "I just didn't want to seem like — but I've had a lot of time to think about it, and people talk about it, tell their version of the story. People who weren't even involved tell their version of the story, so that's why I'm kinda just speaking on it now.

"[Dillashaw] is the type of guy who was cool off the mat, but he'd try to hurt you or injure you on the mat. He wasn't ever really a good training partner. We went hard. We probably got better going with each other, but it's not good. It's not good to have that many wars. You're supposed to be helping each other.

"I heard some other interview where he was saying [my concussion problems were] from me being malnourished, and I didn't know how to cut weight and stuff, which is false. So I'm not trying to harp and just f*cking throw him under the bus, but I'm telling the truth and I have no reason to lie. You guys can take it how you want to take it, and it's going to be a great fight Saturday night."
If you enjoyed this story, please share it on social media!