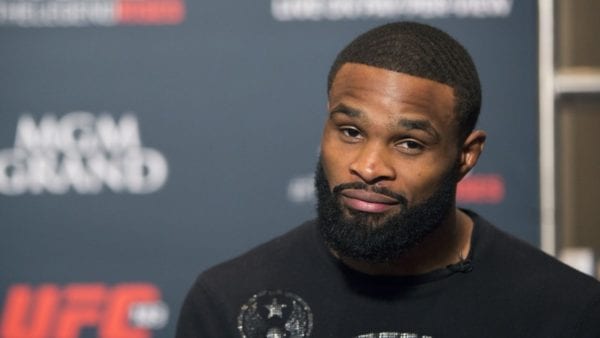 On November 12, 2016, on one of the most historic cards ever put together, Tyron 'The Chosen One' Woodley and Stephen 'Wonderboy' Thompson fought to a majority draw in the co-main event of UFC 205 from Madison Square Garden in New York, New York.
The outcome resulted in UFC boss Dana White booking a rematch during the post-fight press conference, something which is rarely done by the promotion. This sealed the deal in the minds of many fans despite the fact that Woodley seemed to have little-to-no interest in the fight.
Over the ensuing weeks, as the projected date of the rematch at last weekend's (March 4, 2017) UFC 209 began to creep up, Woodley began publicly calling for fights with the likes of three-year retired former welterweight champion Georges St-Pierre, middleweight champion Michael Bisping, and a newly reinstated Nick Diaz.
This was interesting, questionable and off-putting to a large portion of the UFC's fan base especially given White's previous comments concerning the need for a rematch. The events and the fanbase's frustration all culminated when Thompson tweeted a picture of his signed bout agreement captioned, "Waiting on you @TWoodley."
Woodley responded in a manner which was surprising to many by calling 'Wonderboy' "overly entitled and delusional." He also implied and later clarified accusations of racism saying, "I can't allow myself to lose to him and what he stands for and what his fans stand for" during The Morning Wood podcast – referring to Thompson and his fans.
To those that follow the athletes involved, this was called odd and borderline hypocritical rhetoric by the 170-pound champ; especially given his road to the title and the ideas he had about defending it. He then followed it up with a worst-case scenario by controversially beating Thompson in one of the worst title bouts in MMA history at UFC 209 last weekend.
In the spirit of, and with respect to these statements, we  take a look at six perplexing and near paradoxical situations that Woodley found himself a part of throughout the bouts leading to and during his reign as welterweight king.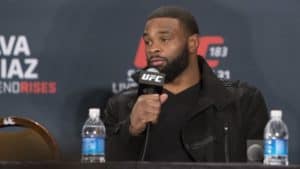 6) Boycott for a Title Shot
On January 31st of 2015, Woodley was looking to win a second consecutive fight after finishing Dong Hyun Kim via first-round KO. His opponent would be Kelvin Gastelum and, after a close fight, the judges awarded the victory to Woodley in the form of a split decision.
Granted, in the Gastelum fight Woodley did suffer a broken foot which required a sit on the sidelines, but pulled no punches as to why and when he would sign another contract saying "No strap, no scrap" during an interview with CBS Sports.
The total fight-to-fight wait lasted from January 31, 2015 until July 30, 2016 – the last year of which saw Woodley healthy and simply biding his time for the right opponent.

It's up to no man to determine how another man goes about his business. But if you're planning to make a stand on the self-perceived entitlement of others, it could arguably behoove you not to spend a year-and-a-half waiting for the opponent you specifically want…or feel entitled to.