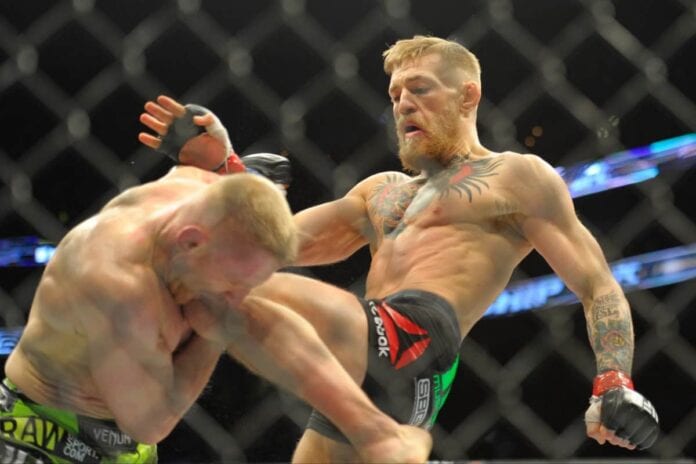 UFC 189 is just one week out as the event is set to go down on July 11, 2015 from the MGM Grand in Las Vegas, Nevada. Although the card took a huge hit when reigning featherweight king Jose Aldo pulled out of his mega fight with Conor McGregor, the show must go on right? Right, as multi-time title challenger Chad "Money" Mendes has stepped in on short notice to meet the "Notorious" one for an interim title.
The card now still has two title fights, as well as a plethora of other top notch fights, and with that comes a few questions and wonders. As UFC 189 approaches, check out LowKickMMA's five questions heading into the event below:
1. Is Thomas Almeida As Good As We Think?
In the contender-scarce bantamweight division, Thomas Almeida stands out as a bright spot, a prospect, and a possible future contender. At 23 years old, the Brazilian has already compiled a 19-0 record including 14 knockouts and 18 overall finishes. He is now 2-0 inside of the Octagon, but he may facing his first true test at UFC 189 in the form of Brad "One Punch" Pickett.
Although Pickett has hit rough times as of late, losing three out of his last four, he is a veteran of the sport, and no easy out for anyone. He has the experience and the power, and should be able to provide a tough test for his Brazilian counterpart. If Almeida can get passed "One Punch", and secure another finish, he should be moving on to big things.
2. Which Featherweight Contender Will Bounce Back?
The 145-pound division is one of the most compelling and intriguing divisions in the sport, with a plethora of contenders. The fact that two of the division's elite will be on display in the main event is causing many to overlook and forget about another solid featherweight matchup which also takes place on the main card.
No. 8-ranked Dennis "The Menace" Bermudez will be taking on No. 11-ranked Jeremy "Lil Heathan" Stephens, in a bout in which both men need a win. Bermudez was riding a super impressive seven-fight win streak until he was starched by former title challenger Ricardo Lamas last November. Stephens on the other hand, was riding a three-fight win streak, but has now suffered back to back losses to Cub Swanson and Charles Oliveira.
Both men need a win to stay relevant in the packed 145-pound landscape. Who will bounce back?
3. Can Robbie Lawler Prove He Is A True Champion?
Robbie Lawler is set to defend his title for the very first time against Canadian superstar Rory "Red King" MacDonald. The two have actually met before at UFC 167 in 2013, with the "Ruthless" one securing a hard-fought split decision win.
Since then, Lawler has fought for the title twice, losing a close decision to Johny Hendricks the first time, and then scoring a split-decision win to steal the belt in the rematch at UFC 181. Although it was a great performance from Lawler, it was close, and may have left some fans with some doubt.
If the "Ruthless" one can once again dispatch of the "Red King", he will prove his worth as champion.
4. Can Chad Mendes Stop The Hype Train?
Chad Mendes has a golden opportunity in front of him. However, it may be quite the difficult task. "Money" is stepping in on just over a week's notice to take on an extremely hungry, extremely motivated, and overly confident Conor McGregor. The "Notorious" one has been training for months compared to Mendes' week long camp, which could be detrimental to "Money".
Some may argue that Mendes is the better fighter, and he's definitely faced tougher competition, but McGregor has proven to be a hard puzzle to solve, with his savvy movement and pure power.
It will be very interesting to see if Mendes can derail the hype train on short notice. However, that doesn't necessarily mean it will be easy for McGregor either….
5. How Will Conor McGregor Deal With An Elite Contender?
The Irish sensation Conor McGregor has risen to the top of the sport faster than anyone else ever has. And although he has looked phenomenal inside of the cage, his mic skills, and marketing skills, have also helped his triumphant rise to the top.
Many have even criticized the "Notorious" one for facing weak competition, avoiding the division's top contenders, and avoiding the division's elite wrestlers. Well, McGregor has just that standing in front of him, as "Money" is one of the best fighters and wrestlers the division has to offer.
It will be interesting to see how the Irish phenom deals with this challenge, and if he can get passed Mendes, he is definitely ready for Aldo.