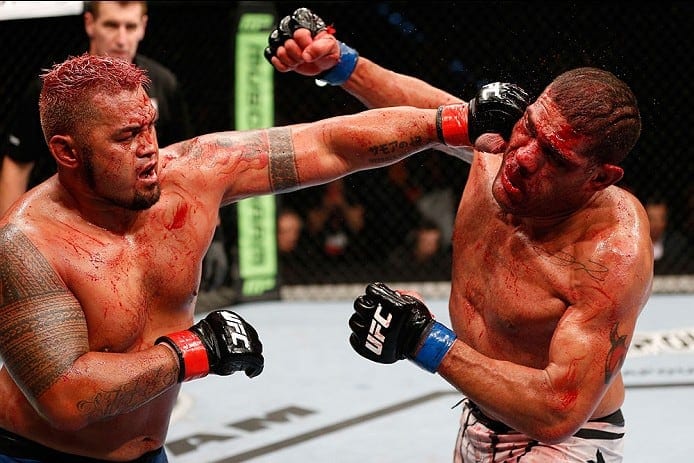 Mark Hunt vs. Antonio Silva – UFC Fight Night 33
UFC Fight Night 33 went down on December 7, 2013 from down under in Brisbane, Queensland, Australia, and it was headlined by an intriguing stylistic matchup between heavyweight sluggers Mark Hunt and Antonio "Big Foot" Silva.
With a combined 21 knockouts in 29 victories, fans were expecting a solid affair from the two men, but nobody had expected what was in store for us.
The two veterans came out and left everything they had inside of the Octagon. Both were rocked, and dropped numerous times, with the fight almost being finished on multiple occasions.
At one point, "The Super Samoan" looked to be on the verge of victory, and before you knew it, "Big Foot" would strike back. Ultimately, both men would slug it out back and forth for five rounds in a bloody showdown that saw both men barely standing by the end of it.
It was so closely contested that the fight actually ended in a majority draw with no winner. Although the action was slightly plagued by the fact that Silva would fail a drug test for elevated levels of testosterone, it remains as one of the greatest heavyweight showdowns in UFC history.