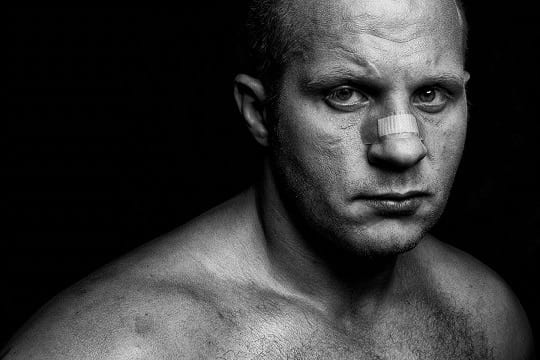 Former Pride champion and MMA all-time great Fedor "The Last Emperor" Emelianenko may have made an appearance at a fan event surrounding last Friday's Bellator 134 from Connecticut, but that doesn't mean he's quite ready to return to the cage as many hoped he would.
What he is willing to do is help mold the current crop of MMA fighters from his homeland of Russia, a hotbed of talented up-and-coming combatants. Despite being out of competition since 2012, Emelianenko has still paid attention to the best heavyweights of this era.
He believes he has the secrets to defeating top fighters like UFC heavyweight champion Cain Velasquez and his rival Junior dos Santos; however, his countrymen seemingly aren't willing to take it. Opening up in a recent interview with M-1 Global (quotes via Bloody Elbow) Fedor said that he simply does not understand why younger Russian fighters won't take his advice:
"I can see that I could help many our guys. And more – I can see the mistakes that Cain Velasquez and Junior Dos Santos use to make. Of course Velasquez is best in our time but I see his flaws. Still I can't understand why our fighters can't take what I could give them. Or they just don't want to take it."
Emelianenko elaborated on why he thinks his fellow Russian fighters do not want to take advice from an 'old man,' believing it to come down to an issue of pride:
"Many of our fighters consider themselves to be seasoned and experienced fighters. They reject my help many times. So I am only left to work with newcomers. It's easier to work with them."
There are a handful of Russian fighters finding a decent amount of success in the UFC right now, but even they are not above the tutelage of a legend like Emelianenko, who is on the short list of truly legitimate options for the oft-discussed title of greatest of all-time. Any fighter who fights in MMA, Russian or not, would certainly be well-served to listen to what Emelianenko has to say and take it to heart, because he's been through it all and lived to tell the tale.
He's even attempting to raise awareness about the sport in his native land as President of the Russian MMA Union:
"Of course now I'm official executive. Now I try to develop MMA in our regions. I try to do everything that depends on me. But no matter what I'm the person of sport. MMA is in my blood till the end."
Fedor clearly has a deep connection to the sport upon which he had such a big impact for so many years. Although we may never see him set foot in the cage again, his teaching will resonate in Russian MMA for quite some time.
Should younger Russian fighters swallow their pride and heed his advice?