Fabricio Werdum won't wait around for Cain Velasquez after all.
We
rdum was granted a heavyweight title shot last year against the champ Velasquez. This followed his third consecutive win inside the UFC over Minotauro Nogueira. Instead of taking another fight, Wedum opted to sit and wait for the winner of Cain Velasquez vs. Junior Dos Santos III.
Unfortunately for Werdum, Velasquez required surgery after his fight with JDS and is now be out for some time recovering. "Vai Cavalo" had to make a decision. Should he fight next? Or should he wait for his title shot?
It seems like Werdum has made his decision. Werdum spoke with MMAFighting.com to discuss his current circumstances.
""I had a meeting with Dana White and Lorenzo Fertitta and told them I wanted to wait, but then I thought about it and saw that I would need to wait too much before my next fight. You don't remember what you don't see."
"We don't have a date 100 percent confirmed yet, but I believe it's going to be in March. I already know that it's going to be a main event, so it's a five-round fight. He doesn't have a good cardio, so that's good for me. He's explosive when the fight starts, tries to finish it quickly, with jumping stuff and knockouts, so I see a lot of openings to defeat him."
Werdum thinks Browne has looked impressive this year with his three consecutive "Knockout of the Night" wins and thinks a fight against "Hapa" would be a great match before a title shot. The Brazilian also knows he is vastly better than Browne on the ground and also has the advantage, or disadvantage, of previously training with his opponent.
"We have trained together a few times three years ago, and he knows how the training was. He knows that he doesn't have a good ground game."
"He's not an expert on the ground, and I'm getting better and better in the striking area. I train with Rafael Cordeiro for seven years, so we'll plan the right strategy to win.""
Bro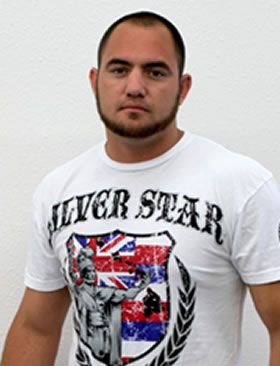 wne beat two grappling specialists last year, both in the same devastating fashion. By using hard elbows he knocked out Gabriel Gonzaga and Josh Barnett, as they were both attempting takedowns. Werdum however, won't make the same mistake as those before him and says he isn't worried about getting landing a takedown.
"I won't go there like Gonzaga and Barnett did. Barnett looked desperate, he didn't look like the veteran that he is. The clinch, the takedown, the body lock will eventually happen. I don't need to shoot for a double leg. His takedown defense and elbows are really good, so I won't make this mistake. We will fight on the ground eventually."
A win over Browne will make Werdum 4-0 since returning to the UFC and cement his place as the no.1 contender. Werdum says that's exactly what he want's.
"I want to show the UFC that I'm ready for the title," "Vai Cavalo" said. "This fight will help me to get busy and prove once for all that I'm ready for a shot at the UFC title. It was sad that Cain Velasquez got hurt and I won't fight for the title now, but it is what it is. This is going to make me stronger."
Werdum vs. Browne is certainly a interesting match-up stylistically and should be a exciting fight. I like Werdum's chances here but I wouldn't bet against Browne after his recent performances. Who do you think will take it, Browne or Werdum?