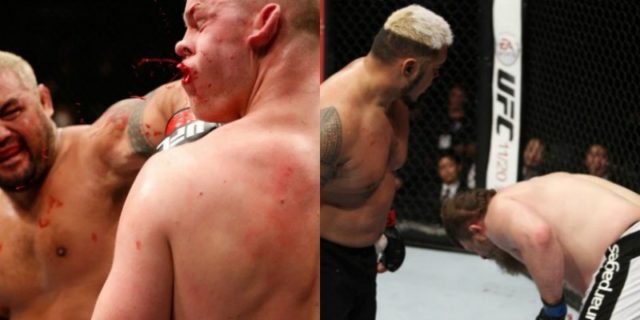 No. 8-ranked UFC heavyweight Mark "The Super Samoan" Hunt is without question one of the heaviest hitters in the sport of mixed martial arts. A feared puncher with a lifetime of kickboxing experience under his belt, Hunt has produced some of the most brutal knockouts that we've ever had the pleasure of seeing.
The legendary striker will clash with returning former heavyweight champion Brock Lesnar in the co-main event of July 9's UFC 200 from the all-new T-Mobile Arena in Las Vegas, Nevada. The bout seems to display the classic striker vs. grappler contest, and many are predicting Hunt to put Lesnar away as he's done to so many other helpless victims.
Leading up to the highly-anticipated clash, we here at LowKickMMA thought it'd be the perfect time to take a look back the illustrious career of "The Super Samoan". Excluding his kickboxing matches, let's check out eight times that Hunt absolutely destroyed his opponent in an MMA fight.
If you enjoyed this story, please share it on social media!