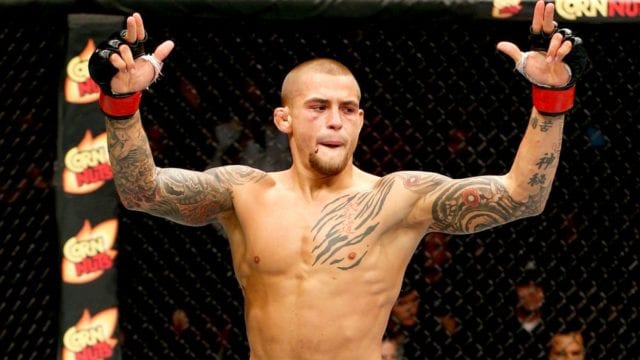 Dustin Poirier's coach believes that he has the right strategy to beat UFC featherweight champion Max Holloway.
Poirier and Holloway are slated to meet for the interim lightweight title in the main event of the UFC 236 pay-per-view event. American Top Team coach Mike Brown has been a longtime supporter of the title contender.
When it comes to the biggest fight of Poirier's career, he's pulling out all of the stops. Thus, in terms of strategy, he sees the weakness in Holloway's game.
"Everybody who has beat Max has put him on the floor at least once," Brown told MMAJunkie. "That probably wouldn't be a bad idea. But Dustin's game is to come forward and to crack you. He hits hard with both hands, and it doesn't go away. He can hit just as hard in the fifth as he can in the first.
"We've always known that he was going to be a monster in five-rounders. We couldn't wait for him to start getting main events and five rounders. That's where he's really going to excel, and it's showing."
At the end of the day, Brown sees Poirier's strengths outshining those of Holloway come fight night due to the pressure and punching power they will present.
"I think he beats him with pressure," Brown said. "I think he beats him with superior punching power and pressure. … He hits hard with both hands, kicks hard with both legs, his gas tank is as good as it gets, and he knows how to use it. He can pressure anybody and take anybody out."
The UFC 236 pay-per-view event is set to take place on Saturday, April 13, 2019 at the State Farm Arena in Atlanta, Georgia.
If you enjoyed this story, please share it on social media!