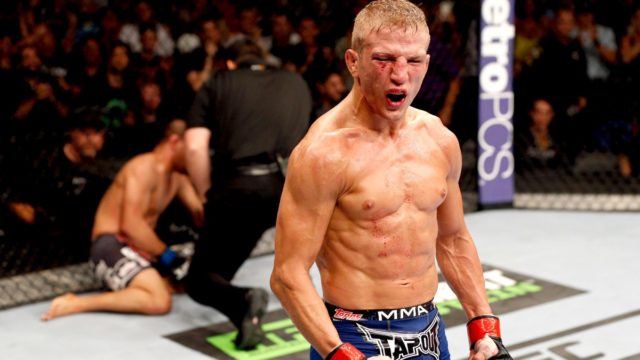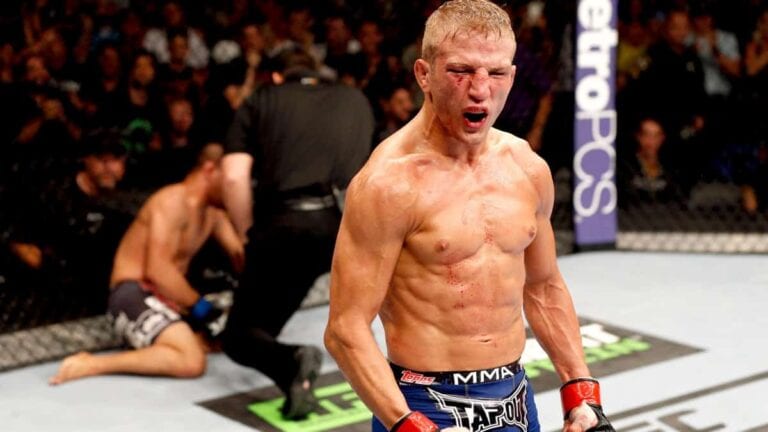 At UFC on FOX 16 this past Saturday (July 25, 2015), Ultimate Fighting Championship (UFC) bantamweight champion TJ Dillashaw retained his title by handing Renan Barao a fourth round TKO loss. With Barao behind him, the champion is now targeting former 135-pound kingpin Dominick Cruz.
Dillashaw's striking coach Duane Ludwig was a guest on The MMA Hour and shared his thoughts on the potential title fight:
"I want that fight to happen, 100 percent. I think he matches up well. I see TJ knocking him out within two rounds, stopping the fight within two rounds."
When Ariel Helwani asked "Bang" what makes him think Dillashaw would win that quickly, Ludwig responded:
"Because of something that we've trained. There's things that I think differently. I know my athletes and there's another level of mixed martial arts now."
Cruz has been hit with an unhealthy dose of bad luck throughout his UFC run. "The Dominator" bounced back following his blown ACL injuries with a first round thrashing of Takeya Mizugaki. Unfortunately, Cruz suffered another ACL injury.
"Bang" says he believes Dillashaw and Cruz must fight because of a "gray area" left when "The Dominator" was stripped of the title:
"If they give Cruz a tune-up fight, that would be fair. But this fight needs to happen because Cruz never lost his title. He was stripped. So, you have to do what is ethically right, and that fight needs to happen anyways because it's a big fight and to make sure that it's truly undisputed. Obviously TJ is the champion now, but there is a little bit of gray area now, just because of Cruz."
Ludwig is so confident in Dillashaw's abilities that he says the champion can get the finish over Cruz in the first round:
"He can even knock him out in the first round, but I see him stopping it in the second round. Once he finds the timing and accuracy of the round, in the second round he is going to take him out. It's the different things Cruz does that is going to give TJ the opening to stop it. There is something specific, very specific, and it's pretty easy. I've been seeing it for years, he's been doing the same thing for years." If you enjoyed this story, please share it on social media!