Donald "Cowboy" Cerrone will once again grace mixed martial arts (MMA) fans with his presence inside the Octagon this weekend (Sat. October 21, 2017) when he headlines UFC Fight Night 118 from Gdansk, Poland against up-and-coming welterweight prospect Darren Till.
In the weeks leading up to the matchup, many have been making the argument that perhaps Cerrone is overlooking Till, an unbeaten Englishman who has proven capable of finishing a fight in spectacular fashion. They shouldn't forget, however, that Cerrone has fought some of the most vicious competitors the sport has ever seen, and has almost always been in the top 10 rankings of whatever weight class he has competed in.
Cerrone recently spoke to MMA Junkie about the 'gatekeeper' moniker that has been attached to his name as of late, a position he seems to relish in and welcomes to see if Till can, in fact, 'get past the gate':
"Can you pass that test? It's a good training exercise for Darren," Cerrone said. "Welcome to the big leagues. Some people say, "Cowboy' is the gatekeeper.' (Expletive) it: Can he get past the gate? We'll see.

"It's not like those things hurt my feelings. I know who I am, and it's fine. I've been in this game a long time. This is my 34th Zuffa walk. I've been in the top 10 almost my entire career. That's a pretty cool thing I can say. I'm here, I'm (expletive) going out and having fun, and I can't (expletive) wait."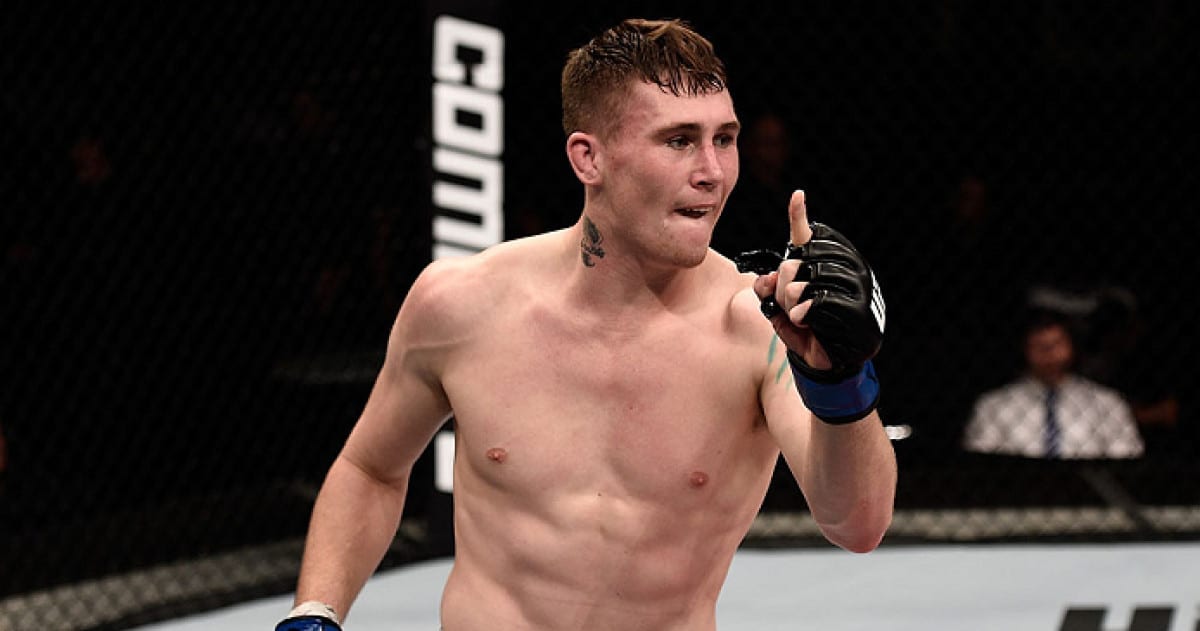 Till seems extremely confident in his ability heading into the fight, and has openly claimed that he plans on finishing "Cowboy" quickly and easily. That's easier said than done, and Cerrone is aware of the fact that when Tills steps into the Octagon against him come Saturday night it will be the biggest moment of his entire career.
There are questions that Cerrone says need to be answered regarding Till, and all of them will be once they're locked inside the cage with one another and there's no turning back:
"He's a new up-and-comer," Cerrone said. "Everyone's like, 'You're overlooking him.' At what point do I look past somebody? You mean the six weeks I'm training my ass for this fight? People are so strange. I train hard. I train the same always. I stay ready. Fighting is what I love to do. It doesn't always go my way. Right now I'm two in the wrong. The Robbie fight, to me, that could have gone either way. People weren't like, 'Oh, you went out there and let us down.' I fought the best in the world and (expletive) loved it.

"I'm glad Darren took the fight. He's coming hard, I'm sure. This is the biggest moment of his life. Lights, camera, action, man. This is a big deal. Five rounds, a big fight. You went from the undercard to the big card. I've been there. This is just another day for me. But for him, this is a big test. Are you going to be able to show up? Is five rounds too much for you? Is it too much up (in the head)? Physically I'm sure you're fine, but (mentally) it's a big deal."
Upon the bout's initial booking Cerrone claimed that he had no idea who Till was and had never seen any film on him. That goes for any opponent "Cowboy" has ever stepped into the cage with, as he leaves the film watching to his coaches at Jackson-Wink MMA. Cerrone claims his initial comments weren't meant to be a jab at Till and he meant no disrespect by it:
"It wasn't any disrespect from me," Cerrone said. "I wasn't trying to like prod at the kid. I just didn't know who he was. Honestly, I watch zero fights. It has nothing to do with me not training. My coaches, it's their job. You guys study and let me train. I just don't enjoy it. I don't sit there. There's some people that love that. They sit at home. I would rather go looking at castles and walking around. Last night I was watching YouTube videos on how people build and design castles. I guess I could have been watching Darren Till, but I wasn't."