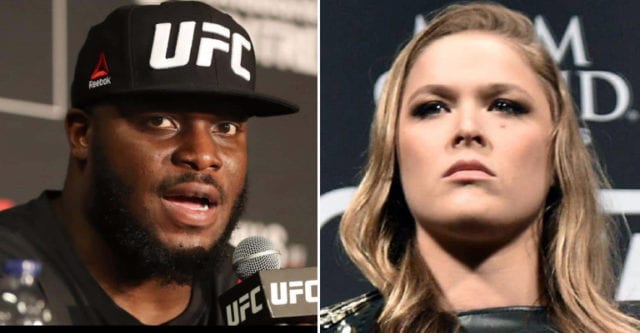 Heading into the biggest fight of his mixed martial arts (MMA) career, Derrick Lewis is still thinking about Ronda Rousey.
The top-ranked heavyweight contender will meet formerly surging title contender Francis Ngannou on the main card of this Saturday's (July 7, 2018) UFC 226 from T-Mobile Arena in Las Vegas, Nevada, yet at least some of his focus appears to be on the former UFC women's bantamweight champion.
Speaking to FloCombat about his upcoming bout with Ngannou, "The Black Beast" joked that he had already sent flowers to the former MMA queen, and that thinking about her attending the fight made him nervous:
"I already sent her flowers," Lewis joked about Rousey's Hall of Fame induction. "You're trying to distract me. I've got to fight extra hard, she might go to the fight. She might be watching. Now I'm nervous."
Lewis fought Rousey's husband Travis Browne in February 2017, defeating him by TKO following some early trouble after "Hapa" nailed him with repeated body shots. After the win, he infamously called out Browne's then-girlfriend with his "where Ronda Rousey fine a**" quote.
Lewis has won seven of his last eight UFC bouts – including six by knockout – yet questions about his committment to training, mainly his cardio, remain. He claimed he's training more than he ever has for the Ngannou fight and is trying to eat clean – something he's admittedly never done. Overall, "The Black Beast" is simply taking the fight more seriously:
"Let's just say I've been training a lot more than I have been," Lewis said. "My past fights, I probably only trained 30 minutes a day. Now I'm training at least two or three hours a day. I'm training more serious. I'm doing everything that I needed to be doing that a mixed martial artist is supposed to be doing. Like trying to eat right 'cause at first, I wasn't eating right at all. I'm trying to eat right. I'm still slipping up here and there.

"Just working on everything, not just my stand up," Lewis said. "I'm working on everything, my wrestling, jiu-jitsu, conditioning, everything. I'm taking it more serious."