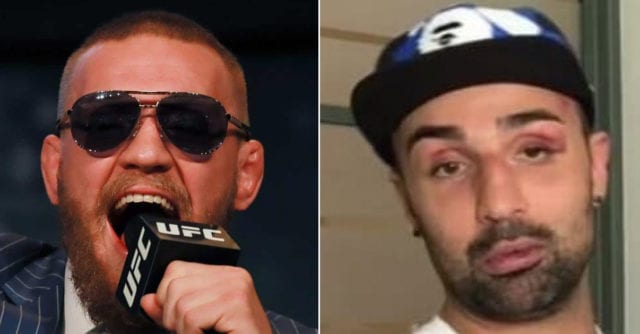 One calendar year has passed, but some things don't change. It seems the Conor McGregor and Paulie Malignaggi twitter war is back on.
It was supposed to be a professional relationship just like any other training partner that is brought into camp for help. But from the beginning, McGregor's personality just didn't mesh with Malignaggi. The former boxing champion reached his breaking point when a video was leaked of him flat on his back with McGregor peering over him.
Malignaggi promptly left the Irishman's training camp, but the social media war was just getting started.
One year later and it seems the former double champ just can't help himself from poking fun at Malignaggi.
View Conor's one-year anniversary twitter post here:
Time flies when you are on your ass. https://t.co/YDhLHi2p0o

— Conor McGregor (@TheNotoriousMMA) August 11, 2018
It just wouldn't be a beef if all parties involved didn't take part. McGregor had to know Malignaggi was going to fire back. Perhaps that was the Irishman's intention all along.
View Malignaggi's Twitter response here:
Dude has had 2 kids and an ass kicking since this and he still lives off a fake knockdown that he knows wasn't real lol. @TheNotoriousMMA your feelings are still hurt? Dont get ur feelings hurt u lil bitch its still our lil secret. Dont run for your life when they ring the bell? https://t.co/cW0q13USYm

— Paul Malignaggi (@PaulMalignaggi) August 11, 2018
It appears for now anyway that these two combat sports figures are back at it. Whether or not McGregor and Malignaggi will ever settle the score remains to be seen.