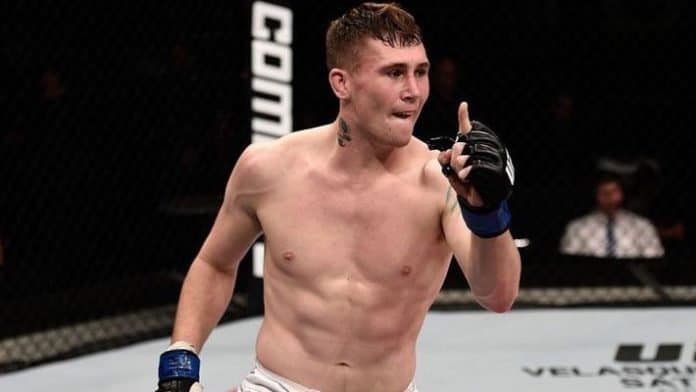 As opposed to Donald Cerrone, who's fought 25 times in the UFC and 42 times overall, Darren Till has only competed in the Octagon four times and has only 16 fights overall.
And yet the 24-year-old Englishman appears to be nothing short of confident heading into his UFC Fight Night 118 main event bout against "Cowboy".
"Fighting isn't about age or experience; it's about intelligence," Till recently said (Via Sherdog.com). "I know I'm the most intelligent fighter out there. I don't think he's half the fighter I am, I really don't."
At age 34, Cerrone has lost two straight bouts, and while he may be nearing the tail end of his career, he remains one of the most dangerous and skillful fighters in the welterweight division. Till acknowledges the fact that he respects Cerrone, but he also made it clear that that respect will be put aside on fight night:
"I'm still a fan of Cowboy. He's everything you want from a fighter, that's never going to change," Till said. "I look up to him and I respect him but, come fight night, I have to put all that to one side and I'll have to put my fist in his face. It'll be no different to any other opponent."
Possessing a 3-0-1 UFC record, Till has proven that he can compete in the world's largest mixed martial arts promotion, but there's no question that Cerrone will represent the toughest test of his career. With that being said, however, Till plans to 'mentally break' the former lightweight title challenger:
"On Saturday, Cowboy will see a level that he has never ever seen in his career before," he said.

"I've been training for 14 years for this. I've sacrificed so much, so on Saturday, it's do or die. Saturday I go in there and make a big statement."

"The first round, I'm going to mentally break him, I know I am, and he's going to start questioning himself more as the fight goes on," Till said.
What do you make of Till's confidence heading into his bout with Cerrone?