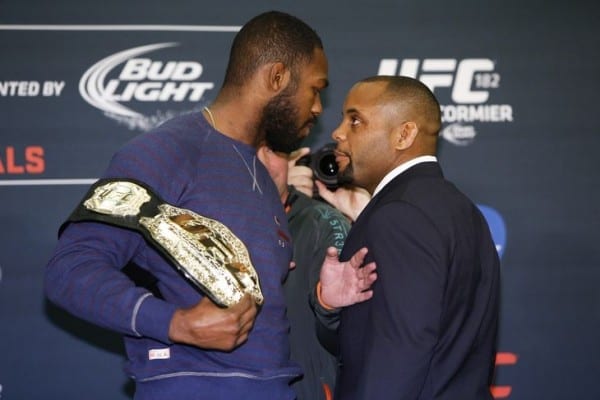 Former UFC light-heavyweight title challenger and Strikeforce heavyweight GP winner Daniel Cormier once again stands on the brink of greatness. This time UFC 187 is the platform, and his foes is the heavy-handed knockout artist Anthony Johnson. 'Rumble' brings a dangerous set of tools to the octagon, and could put anyone's lights out with his one-shot power.
For Cormier, the lead up to this fight has been a walk in the park in comparison to UFC 182. 'DC' and the champion of the time Jon Jones had an intense rivalry, erupting in a brawl during a press conference in Las Vegas, and exchanging death threats on national television.
Now looking at his second UFC title fight, Cormier tells press during the UFC 187 conference call, via MMAFighting.com that he is happy to no longer be associated with 'JJ':
"As much as it sucked to lose, I thought that after that fight I would be separated from him. It was welcome. It was almost like a weight lifted off my shoulder to not have to be so consumed with Jon Jones. It had consumed my life. Looking back I can tell how emotionally involved I was."
"The first time, the build up was insane," Cormier said. "With all the stuff that Jon and I went through, fighting at that press conference and stuff, the build up was insane and it wore on me. And I was so emotionally attached to that promotion and that fight that I think at a point the energy was just kind of drained out of me. This time feels good."
The build up to UFC 187 has been very different, and has come under fire from some critics calling the two contenders 'paper champions'. For Johnson and Cormier, this belt is as real as it gets, but perhaps only until Jon Jones returns?
The formerly dominant champion held the division in a corner with his death grip, but 'DC' believes he did better than anyone else did against 'Bones' Jones:
"I went and fought the No. 1 pound-for-pound fighter in the world and left the Octagon healthy," Cormier said. "I left the Octagon without taking much damage. I didn't get all cut up like most guys he fought. I wasn't bleeding. I think I may have had a bloody nose and that was pretty much the extent of my injuries after 25 minutes of fighting Jones."
"Looking back at the whole thing from the press conference to Jon and I trying to fight in the MGM, in that corridor, the press conference jawing at each other," Cormier said. "And then just feeling myself in the Octagon that night and that [adrenaline] dump. That it was finally happening and then having that dump. It was like, wow."
Many people believed that Cormier hadn't performed to his potential at UFC 182, including his AKA (American Kickboxing Academy) team mate Luke Rockhold. Maybe with the UFC heavyweight champion Cain Velasquez back in training, we'll see a different 'DC' in the UFC 187 main event.
The Olympic wrestling Bronze medallist can certainly take a punch, and his grappling is established in two divisions of the UFC. The question is can Anthony Johnson keep pace with Daniel Cormier, or will the wrestling beast keep 'Rumble' contained?
If you enjoyed this story, please share it on social media!