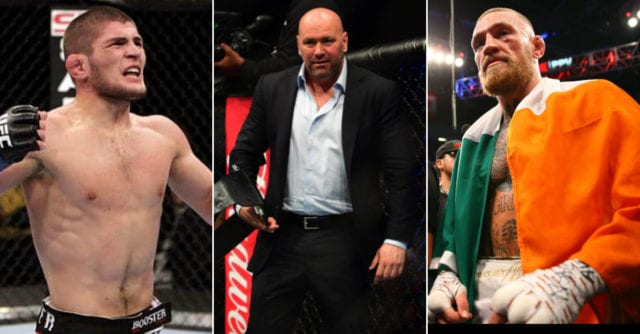 The fight that the MMA world wanted and needed is finally official.
Dana White let the cat out of the bag during the 25th Anniversary UFC press conference from Los Angeles, Califonia, last Friday (Aug. 3, 2018). Khabib Nurmagomedov (26-0) will defend his lightweight title against the returning Conor McGregor (21-3) in the main event of UFC 229 on Oct. 6 from the T-Mobile Arena in Las Vegas.
But don't expect a big horse and pony show in the form of a World Tour similar to McGregor's previous media whirlwind with Jose Aldo in the months preceding the biggest fight in MMA history. According to UFC President Dana White, there's just not enough time for that.
"We don't have time for a world tour," UFC president Dana White said at the UFC 227 post-fight press conference. "These guys are going to fight the first week of October. Both guys are going to go into camp. We'll do something fun, we'll do some different stuff. We're literally having a big meeting on Monday to get this stuff in order and get it going."
A promotional bonanza probably isn't going to be needed to help sell this fight. Fans and media members alike agree that if this fight does in fact happen, it should easily eclipse the MMA PPV record currently held by McGregor and Nate Diaz for their rematch at UFC 202.
The fight has to happen first, however, and after McGregor was arrested for assault when he threw a metal dolly through Khabib's bus at UFC 223, a number of bad things could get in the way of that. White isn't worried, however, claiming the UFC will be able to keep tension under control:
"We're pretty confident that we can control what happens," White said. "What happened in New York, obviously if you look at what happened, everyone was loading onto the buses, everything was done, and our staff still handled it pretty damn well for what was going down. We're very aware. Nothing is going to happen. We'll be good."
Its impossible to tell just how long this fight has been in the works, but some insiders believe this fight was already a foregone conclusion in the UFC's eyes, and for good reason, as it legitimately has a shot to be the biggest fight in the UFC's twenty-five years.
For that reason, it just doesn't need a world tour.
If you enjoyed this story, please share it on social media!