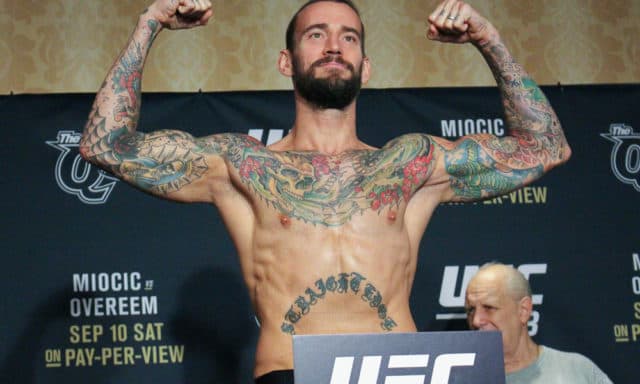 CM Punk's MMA debut happened to also be his UFC debut, and it wasn't much of a surprise when he lost that fight to Mickey Gall back at September 2016's UFC 203.
Even though Punk, whose real name is Phil Brooks, took an absolute beating, the former WWE superstar wants another shot in the Octagon.
UFC President Dana White told The Associated Press that he's aware Punk wants another MMA fight, and appears more than willing to give him one:
"I like that guy, he's a good dude. He wants one more. He wants to get another shot. I'm going to give it to him. He's a completely different case than most normal human beings, so I'm going to give him another shot."
Punk made a slow transition from professional wrestling to mixed martial arts, training under Duke Rufus' academy for a year and a half before his first fight was even announced. It turns out that a crash course in fighting isn't enough to win on the world's biggest stage, regardless of the 18 months Punk put in.
White refrained from getting into specifics like a potential opponent or a timeline, but one thing is for sure – CM Punk wants to fight again, and with White's blessing, we're going to see Punk fight in the UFC again.
Punk (0-1) is one of two high-profile WWE wrestlers to make the plunge into MMA. The other had a much more measured degree of success, even if it was short-lived in a sense. Brock Lesnar won the heavyweight title from Randy Couture back in 2008. Punk competes in the welterweight division.
Would you like to see CM Punk try his hand at MMA again? Who would be an ideal opponent, if there is one?
If you enjoyed this story, please share it on social media!