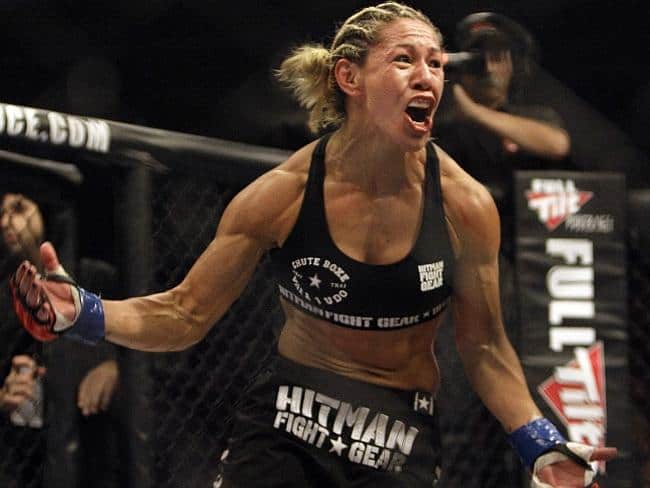 Fans of Cris 'Cyborg' Justino and Ronda Rousey may have noticed that the Invicta FC featherweight champion has been looking rather tiny in recent pictures. After being heavily rumoured for an encounter with the UFC women's bantamweight champion these past few months, it was decided that Cyborg must at least fight at 135 pounds once before being eligible for the bout with 'Rowdy' and all the spoils that would bring-win or lose.
If you haven't seen the pics of mini-Cyborg floating around, here are a few for your consumption, scroll further for the main headline news:
So Cyborg is looking decidedly skinnier, meaning what? Well, after the Invicta FC 14 show last night (Saturday September 12, 2015) president Shannon Knapp announced that Justino will be appearing at the next show, Invicta 15, but will not be defending her 145-pound strap. Instead 'Cyborg' will be fighting at a catchweight of 140 pounds.
Perhaps not the news of a bantamweight cut that fans of the WMMA superfight with Rousey were hoping for, but a step in the right direction. The fact she is not going to defend her title is also very meaningful. That said, a loss even at 140 pounds would be absolutely devastating at this stage, and would likely put the screws to Rousey vs. Cyborg once and for all.
Skip to the next page for the social media reactions and roundup of the Cyborg news!
Cris "Cyborg" Justino will also be fighting at 140 pounds. #InvictaFC15

— InvictaFights (@InvictaFights) September 13, 2015
Title belt or not! Cyborg to make 140lb debut in November! Should Evinger get a shot at Cyborg? http://t.co/7AoiUwn7eO via @LUBMMA

— UFC MMA Chat/tweet (@capebreton1973) September 13, 2015
Would be interesting if the UFC lent Tate to Invicta to fight Cyborg at 140.

— MarQ P (@WMMANews) September 13, 2015
If Cyborg were to defeat Evinger for the title then you could bill Rousey vs Cyborg as champion vs champion.

— Chamatkar Sandhu (@SandhuMMA) September 13, 2015
Evinger/Cyborg. Make it happen. #InvictaFC14

— Tommy Toe Hold (@TommyToeHold) September 13, 2015
Stay tuned to LowKickMMA for ore UFC/MMA news and coverage throughout the day!