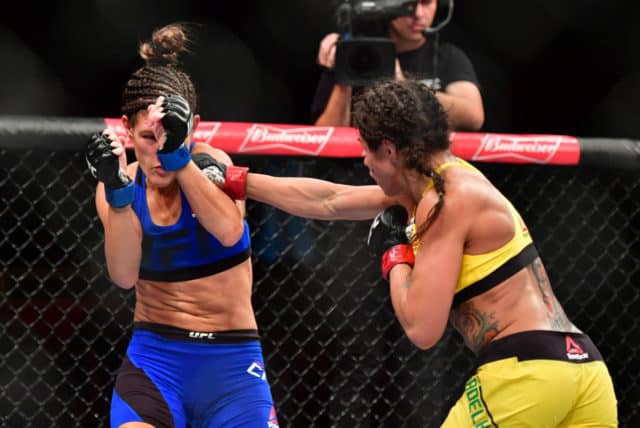 UFC Women's strawweight Cortney Casey underwent quite the fallout following her false-positive test results from theTexas Department of Licensing and Regulation (TDLR).
Casey fought and defeated Jessica Aguilar by decision at UFC 211. However, the ineptitude of the TDLR led to that victory being overturned to a no contest due to a false- positive test for performance enhancing drugs.
The only problem was that the test was wrong, and Casey's system was actually clean of all such banned substances.
Casey discussed the backlash and fallout from the botched false-positive test and how it has affected her career.
"One of the worst things that can happen to an athlete is being associated with steroids in any way, shape or form," Casey told Bloody Elbows' Iain Kidd. "I don't want to have that asterisk next to my name. I'm innocent, but that'll still be there; some people aren't going to read the second article, some people aren't going to understand it, or they're going to think I just found a loophole. I can't change the way they think because they heard I used steroids, so I'll always be attached to that and it sucks.

I was approached at Target, and I was told that I had let the island down, that I was a cheater, and asked how I could do that to my fans. I live on a small island and word travels fast; they don't call it Coconut Wireless for nothing"

It's one thing for people to attack me on social media, but then they went and found my mom on social media. When I posted pictures of the kids I train, people were saying things like, 'Don't take steroids like your coach.'"
Casey went on to explain her initial course of action immediately following the news of her false-positive drug test.
After being verbally attacked on social media and in person, Casey says it was difficult to refrain from defending her make and reputation, instead holding out for the truth to eventually emerge on its own.
"Everyone told me not to say anything, to make sure my family didn't say anything because I should avoid pissing Texas off, especially when Jeff reached out on my behalf and told them that this was basically a false positive and they shouldn't be releasing it and they still did nothing. Jeff told me after that to just say silent so we don't piss them off. Dana said the same thing, he told me just to listen to Jeff because he knows what he's doing and they hired him for a reason.

I've been following that advice, but it has been hard. I've been attacked on social media, I've been verbally assaulted by people at Target, it's just been hard. I'm glad it's coming out that I was innocent to all along. It has been the longest month of my life, waiting for the result of a test I already knew the answer to."
She was vindicated after a follow-up test revealed that the false-positive test was incorrect, despite the damage that had already been done.
However, Casey was ultimately quite supportive of how the UFC handled the situation.
"Dana [White] reached out to me right away, the same day everything came out, and he called me and told me to hang in there and the UFC would take the proper steps to make sure the situation was handled properly and that they would pay for everything up front. That was reassuring. When you hear things from Dana, when he tells you that we're behind you, then you know you have the UFC's support. Sean Shelby reached out and told me to hang in there, and told me we'd get through this, as well."

"I've been happy with how the UFC handled this and with how USADA handled it, the only part that hasn't been going smoothly is the contact with–and professionalism of–Texas."
If you enjoyed this story, please share it on social media!