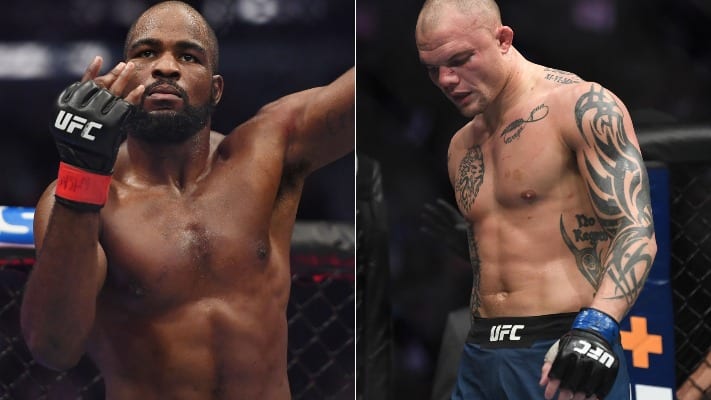 Corey Anderson has been very vocal in regards to believing he deserves a title opportunity next. Anderson realizes Dominick Reyes is the likely next challenger for the strap, and is fine to wait and fight the winner of Reyes vs. Jon Jones.
However, he has also been called out by fellow top contender Anthony "Lionheart" Smith as well. Anderson has since claimed he has zero interest in that fight, and doubled down on those claims in a recent interview with MMA Fighting.
"Get off my wave baby, it's my time," Anderson said. "I called every single one of those people in front of me out. From Jon Jones to DC [Daniel Cormier], Jan Blachowicz, Anthony Smith, Thiago, Dominick Reyes, I called them all out for nine months straight, and every single one of them avoided it.
"They said other names, but nobody said me, or they had to say, 'I don't want to fight Corey Anderson.' Well guess what? I don't want to fight you now. It's my time. I earned this. So after I get my shot whenever it is, then they can come fight me for the belt. Come on. Until then you've had a whole year to say yes, and you picked every other fight.
"Dominick Reyes, they offered me him, and now all of a sudden his nose is broke. Two days later he was looking for a fight. Everybody tries to avoid me. Now I'm hot, and they want to ride my waves. Get off my coattails."
Anderson comes off of a big first-round TKO win over Johnny Walker at UFC 244 – a contender many believed would give Jones a run for his money if they ever shared the Octagon. As for Smith, he hasn't fought since June when he submitted Alexander Gustafsson in Sweden.
Should Anderson take a fight with Smith, and beat him, there would be no denying him the next shot at the title.
Do you think Anderson should have to fight Smith before getting a title shot?