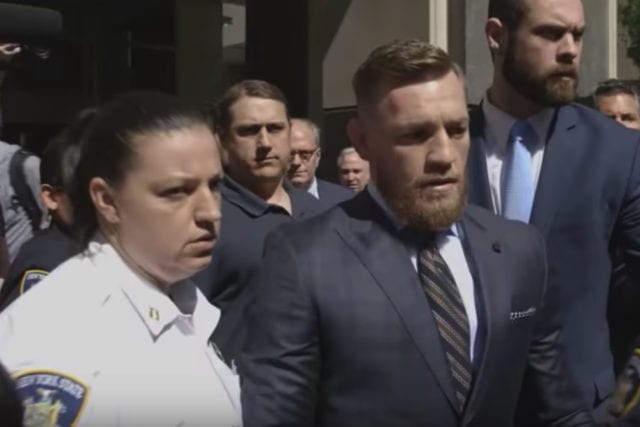 Conor McGregor's legal issues continue to pile up.
Back in August of 2016 McGregor got into some hot water after engaging in a water bottle and Monster Energy can war with Nate Diaz and his team ahead of their UFC 202 pay-per-view (PPV) clash.
Some innocent bystanders suffered as a result, as William Pegg is suing McGregor for at least $95,000 after the Irishman allegedly hit him with a Monster Energy can 'in the back near his left shoulder.'
McGregor missed his scheduled deposition for the incident as he was in jail for his UFC 223 fighter bus attack. The deposition was scheduled for April 6th, however, on April 5th "The Notorious One" stormed media day in Brooklyn ahead of the PPV and threw a dolly through a fighter bus window, injuring several fighters in the process. He turned himself in to local authorities several hours later.
The deposition was set to take place in Las Vegas, however, McGregor was jailed in New York after the bus attack and was unable to make it.
According to a report from The Blast, William Pegg is not happy about this:
"In his emergency motion to compel, Pegg says the fighter has delayed the depo since September 2017. He explains the deadline to have it done is in October but McGregor refuses to give him available dates. Pegg says McGregor's deposition was scheduled for April 6, 2018, but "McGregor did not appear for his deposition. Instead, on the night of April 5, 2018, he was throwing metal barriers and other objects at the UFC 223, at which he was not scheduled to appear."
…
"He accuses the fighter of delaying the depo for months and is demanding the judge order the fighter to sit and be grilled about the case."
Pegg is also demanding six figures in damages as well as $5000 for medical costs. He also wants the former UFC featherweight and lightweight champ to turn over his financial information in order for the court to determine how much McGregor should be fined in order to teach him not to do something like this again.
If you enjoyed this story, please share it on social media!