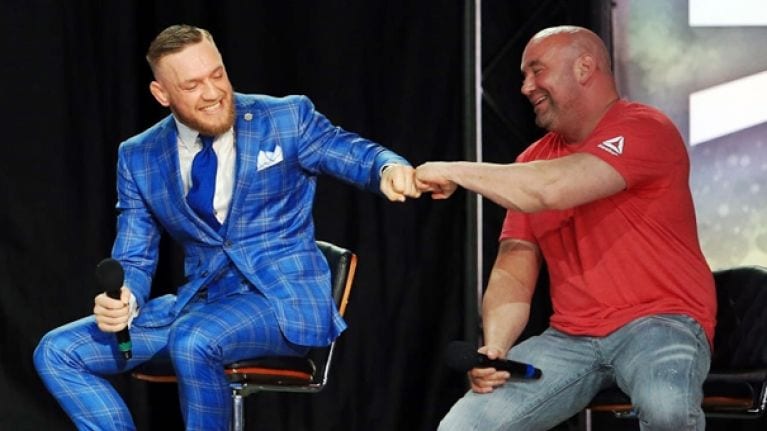 It's fight week, and that means Conor McGregor boasts about his latest monster payday.
McGregor will make his awaited MMA return against lightweight champion Khabib Nurmagomedov in the main event of this weekend's October 6, 2018) UFC 229 from the T-Mobile Arena in Las Vegas, Nevada.
When he does, he's claiming a record-setting payday for the sport of mixed martial arts. McGregor revealed on this week's episode of "Ariel Helwani's MMA Show" (via MMA Mania) that his purse would set a record for the most ever made in MMA. He said the deal wasn't quite on par with his haul to box Floyd Mayweather, but it was getting here:
"The deal I'm on now, it's breathtaking what we have achieved,. It's a tasty, tasty, record-breaking deal. It's give or take [nine figures]. The Mayweather [fight] was nine figures but we're almost there. It's a good, solid eight figures, halfway there. We're very happy with the deal."
The Irish crossover star made a disclosed $30 million to box Mayweather in August 2017. He lost the bout by 10th-round TKO but made himself MMA's richest fighter as a result. McGregor is rumored to have ultimately earned between $85-100 million when all pay-per-view figures were taken into account.
It's come at a price to his MMA domination, however. McGregor will have been out of action for almost two years when he steps into the Octagon to face Khabib this weekend. He'll also be facing arguably his toughest test in the undefeated "Eagle."
All that means McGregor will most certainly bank his biggest MMA payday of all-time, yet it could come for his biggest beating as well.
Will he buck the odds like he has so many times before?