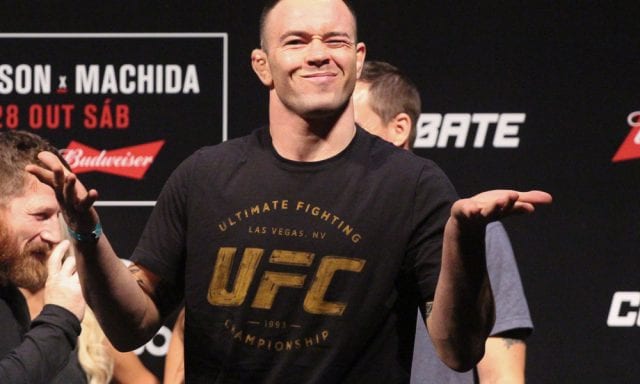 There has been a lot of focus on WWE this week. Aside from the obvious reason that WrestleMania takes place this weekend in New Jersey. But also due to 'Last Week Tonight' host John Oliver going off on the professional wrestling juggernaut.
Oliver took aim at WWE CEO Vince McMahon, calling the business tycoon an "a**hole." He also voiced his displeasure with WWE treating their talent like independent contractors – much like the UFC – went off on early wrestler deaths, and much more. Speaking to Submission Radio recently, former interim UFC welterweight champion Colby Covington offered his thoughts.
Covington explained that the WWE pay compared to UFC fighter pay isn't even close. "Chaos" said that WWE wrestlers get paid $500,000 a year minimum, with most being multi-millionaires. In the UFC, that's far from the case. Covington went as far as saying UFC athletes get paid like "dog sh*t" (via BJPenn.com):
"I did see a little bit of it and I heard little clips of it, but you can't even compare the two," Covington said. "I mean, WWE, they're not making $10,000 paychecks, those guys are getting paid, man. They're all making at least $500k plus a year minimum.
"Most of them are making multi-millions a year, with their t-shirt deals they're making even more. And I'm pretty sure all those guys get health insurance and retirement benefits. We don't get none of that sh*t in the UFC, we don't get no health care unless we're fighting. Last time I was in training camp and I broke my hand, I had to pay for that out of pocket.
"Like, that wouldn't happen in the WWE. So, they don't even compare. There's no parallel to it, man. The UFC, we get paid like dog sh*t. It's pennies over here, and he has no idea, man. If he came and looked into the books and really did some research into the UFC man, there's no parallel, everyone's getting taken advantage of in the UFC."
As for Covington's next venture inside the Octagon, he's the likely next challenger for Kamaru Usman's welterweight title. Covington caused quite the ruckus during UFC 235 fight week, where Usman dethroned Tyron Woodley for the 170-pound throne. After the fight, UFC President Dana White admitted that Covington will be "The Nigerian Nightmare's" first title defense.
If you enjoyed this story, please share it on social media!