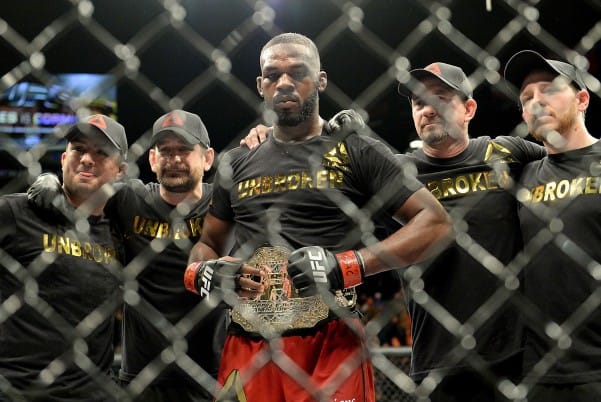 Ever since he was arrested on hit-and-run charges, stripped of his long-held title, and suspended indefinitely by the UFC, former light heavyweight boss, and former pound-for-pound king Jon "Bones" Jones has remained relatively quiet regarding the media.
It was recently reported that Jones will finally have his future decided on, as he will appear in court on September 29, 2015, but no matter the outcome, his fighting future is still unclear.
Jones' coaches, Greg Jackson, and Mike Winklejohn, recently spoke on their star pupil, however, during an edition of "Inside MMA" that focused on their gym.
Speaking on Jones (Via MMAJunkie) Winklejohn wasn't sure whether or not "Bones" would ever compete again, but at the end of the day, he said that he is supporting the former champ because fighting isn't always the most important thing:
"Jon is working out. He's doing it," Winkeljohn said. "It wouldn't be good for him to do nothing in (this) situation. He's been coming in off and on. He helped Andrei Arlovski out a lot with Travis Browne (for UFC 187). So he comes in the gym (and) helps others; he's putting some time into it. He's been putting in some time helping Holly (Holm) out (for her fight against Ronda Rousey at UFC 193).
"But will he fight again? Who knows. He's got to make sure he's got everything in place, and he's trying to do all the right things right now. And we're trying to support him and go forward, because there are more important things in life than just fighting."
Head coach Greg Jackson reiterated this idea:
"We believe in him. We support him," Jackson said.
Of course this depends on what happens in court, and frankly on just what Jones would like to do, but at age 28, "Bones" likely has years of his prime left in the tank, and many would most likely agree that he remains the best fighter on the planet.
Be sure to check out the full episode of "Inside MMA" this Friday.
If you enjoyed this story, please share it on social media!