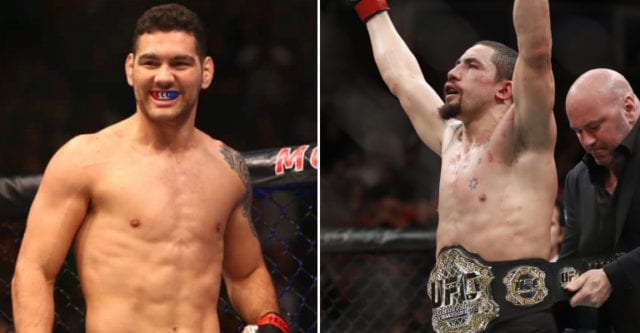 Former 185-pound champion Chris Weidman was in attendance at UFC 225 this past Saturday (June 9, 2018) at the United Center in Chicago, Illinois where current middleweight champion Robert Whittaker scored a somewhat controversial victory over Yoel Romero in the evening's main event.
Recently speaking on the fight and his future, Weidman made it clear that he not only would like to fight Whittaker for the title next but that he feels as if he can finish "The Reaper" should they agree to fight:
"Obviously for me that would be the best case is to fight for the title. Fighting Whittaker, that's a guy I match up well with and that's a guy I feel I can go out there and finish," Weidman said on a Monday's edition of The MMA Hour.

"I feel I am the most decorated guy in the division, I've had the most title defenses. I had a rough patch, I went undefeated my whole career, I lost one, happened to lose three in a row. My mind, I felt like it wasn't in the fight spot," he said. "I came back, got myself where I needed to be, got my mind back and I went out there and beat one of the top contenders, Kelvin Gastelum. I feel like I dominated the fight and went out there and finished him. I feel like you're only as good as your last fight and I finished the other guy that we're talking about in my last fight. I think I definitely deserve shot at the title. It will be a good fight."
Weidman, who started his mixed martial arts career a perfect 12-0 while successfully defending his title three-straight times, did indeed hit a rough patch from 2015-2017, losing consecutive bouts to Luke Rockhold, Romero and Gegard Mousasi.
Most recently, however, he submitted Kelvin Gastelum, who's also in the running for a title shot, last July on Long Island, but he hasn't competed since due to a lingering hand injury.
And in terms of who the next shot should go to, Weidman feels as if his resume is a bit more impressive than Gastelum's:
"If you're going to start doing that, you are picking what is the worst look for me. If you're going to go back, look at my whole career. If you're going to start with my first losses, it's going to look bad," Weidman said. "But if you look at my whole career, I've fought only the best guys in the world since I've been in UFC and I've done pretty damn good, have the most title defenses and I went through a little rough patch and I climbed my way out of it, I didn't have any rough patches before that.

"There's a lot of losses in Gastelum's career that don't look so good. We have one common, we fought each other so that answers the question. I went out there and I finished him, he had the same opportunity and he went out there and lost to me, so…"
Who would you like to see challenge Whittaker next?
If you enjoyed this story, please share it on social media!