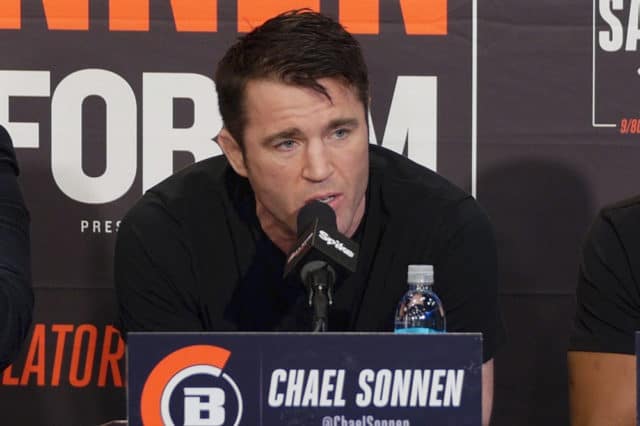 Chael Sonnen thinks that Floyd Mayweather's attempt to make a deal with Rizin to fight under their banner was a mistake.
Tenshin Nasukawa was scheduled to fight the Boxing Legend on December 31st at Rizin 14. There was a lot of unknown when this fight was made including a rule set wasn't even decided. It was supposed Nasukawa biggest fight of his young combat sports career.
Sonnen recently gave his take on this situation and called it a huge mistake made by Mayweather.
"Huge miss here by Floyd Mayweather," Sonnen said on the ESPN+ show he hosts with Ariel Helwani. "He has brought down his brand. Very normal trajectory of a fighter's career."
Sonnen continued by stating that you start out on a small level and end on a big stage if you become a big star. Instead, Mayweather is doing things in the wrong way.
"You start out fighting at the YMCA, you move on to the dog park. You get into a coliseum, on your way out you go back to the YMCA. Then you finish up at the dog park. That is what this appeared to be for Floyd from jump street."
Chael Sonnen Points Out The Mistake
The Bellator star continued by stating that Mayweather also made a mistake with his brand. He is trying to hype this as a comeback but the problem is one thing. No one is clamoring for Mayweather to unretire.
"It was a tremendous mistake," Sonnen said (H/T to MMA Fighting). "The retirement just so you can use that to market the comeback. You can never have the comeback if you don't have the retirement. Floyd knows this, Floyd tries to copy this. But Ariel, the one miss that he had. The ingredient that has to be there if you're going to pull a stunt like this it has to be at a time when people all come out saying, 'Why?!
Finally, when people think that a fighter should retire, they don't get the same feeling when you come back compared to retirement at a young age.
"Why would you retire? You're so good! You have more left!' When you retire at a time when people are looking at you going, 'You should retire. You can't get that feel, you can't get that buzz back."