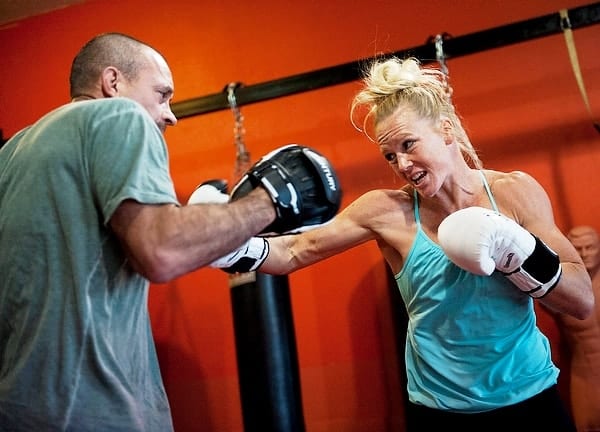 Undefeated bantamweight champion "Rowdy" Ronda Rousey is scheduled to once again put her title on the line as she meets former boxing champion Holly "The Preacher's Daughter" Holm in the main event of next month's UFC 193 from Australia.
Holm is known for her decorated boxing background, and will undoubtedly be the most elite striker that Rousey has ever faced. Being a longtime champion, Holm has had quite a bit of hype since her move to mixed martial arts (MMA), but former title challenger turned analyst Chael Sonnen doesn't understand why.
Appearing on yesterday's (October 5, 2015) edition of the MMA Hour, Sonnen claimed that Holm's titles have no "validity":
"She is making a claim that she is a 17-time world champion," Sonnen said. "I will tell you as an analyst, she has zero world championships. There is no validity to any one of those titles."
According to "The American Gangster", in order to be considered a world champion, one must go through a tournament of sorts not just show up to an event that needs a main event:
"That never happened in any of those 17 championships," Sonnen said. "She showed up for some event, the promoter needed a main event, so he called that main event a world title. It's not a knock on her, but that's what happened. I'm not gonna sit back as an analyst and call her a world champion, let alone 17 times. If she beats Ronda Rousey, she's the world champion.""
Sonnen continued on with his honest evaluation of "The Preacher's Daughter" noting that he doesn't believe she's that strong of a puncher, and claiming that she may not even out strike Rousey, let alone out grapple the former Olympian:
"Again, she's got some skills," Sonnen said. "You'll hear the expression 'a puncher's chance,' but she's not very good at punching. Those boxing championships, they're not real. I'm not sure she could outstrike Ronda. She definitely can't outgrapple her. I wish her the best."
However, "The American Gangster" understands the reputation that Holm has around her, and wants to make it clear that she's most likely a great person:
"This is a very nice girl," Sonnen said. "I've never met Holly. She has a tremendous reputation. People love her. They don't just go, 'Oh, she's alright.' They go on and on about what a great teammate she is and what a great person she is. I want to make that clear before I start throwing stones here."
At the end of the day, if Holm wins a bout that's for a so-called "world title", then Sonnen said she should put it on her resume:
"In her defense, if she enters into an event and that promoter calls it the world title and puts a belt around her, I think she has the right to put it on her resume," Sonnen said.
Do you agree with Sonnen's assessment of Holm? Can "The Preacher's Daughter" out strike, and ultimately out fight the dominant Rousey?