"The Natural Born Killer' Carlos Condit is set to take center Octagon once again, when he meets Brazilian jiu-jitsu stud Demian Maia in the main event of UFC on FOX 21 on August 27th.
Condit last saw Octagon action in his title bout with the now-former welterweight champion Robbie Lawler, in the pair's main event collision at UFC 195 this past January. Condit suffered a split decision loss to 'Ruthless' after the five round war, and contemplated retirement shortly after as well.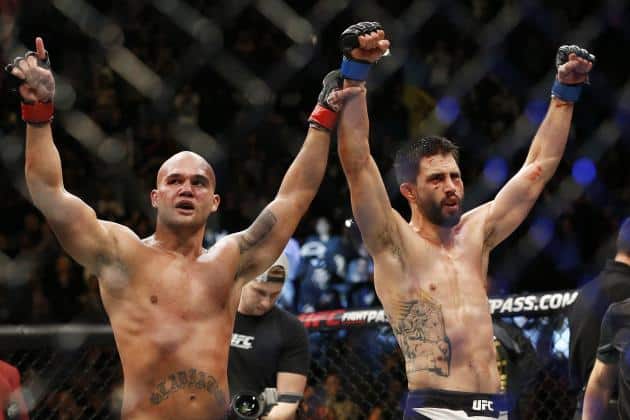 Now Condit is ready to return to the ultimate proving ground, and took to The MMA Hour, courtesy of MMA Fighting, to reveal the circumstances behind his decision to return:
"A number of reasons. First and foremost, I still got a little bit of time in the sport, I think. Still got some fights in me," he confessed. "I love it. I love what I do.
This is a passion for me. Also, this is how I make a living. This is my job. I got bills to pay, I have kids to feed."
"I was on the fence until…it could've gone either way," he said. "If an opportunity presented itself and it sounded like it was something enticing, I think I had decided 'Ok, I'll take it.'
The fight with [Demian] Maia, it's a tough fight. He's a tough match-up for anybody, but that being said, it gets me back into title contention.
I beat Demian Maia, I'm the no. 1 contender, I feel. And I'm back in position to get the belt around my waist again.
While Condit acknowledges that a potential win over Maia could be the next stepping stone he needs on his quest back to title contention, he will not overlook the Brazilian as he has one of the most problematic styles in the UFC today:
"I like the idea of fighting him because he is one of the best in the world. He's got a tricky style. It's, without a doubt, a challenge.
It's going to be a tough puzzle to solve, but I like challenging myself. That's why I do this. One of the reasons to pit my skills and my abilities against other world-class fighters.
Demian Maia is, without a doubt, a world-class fighter."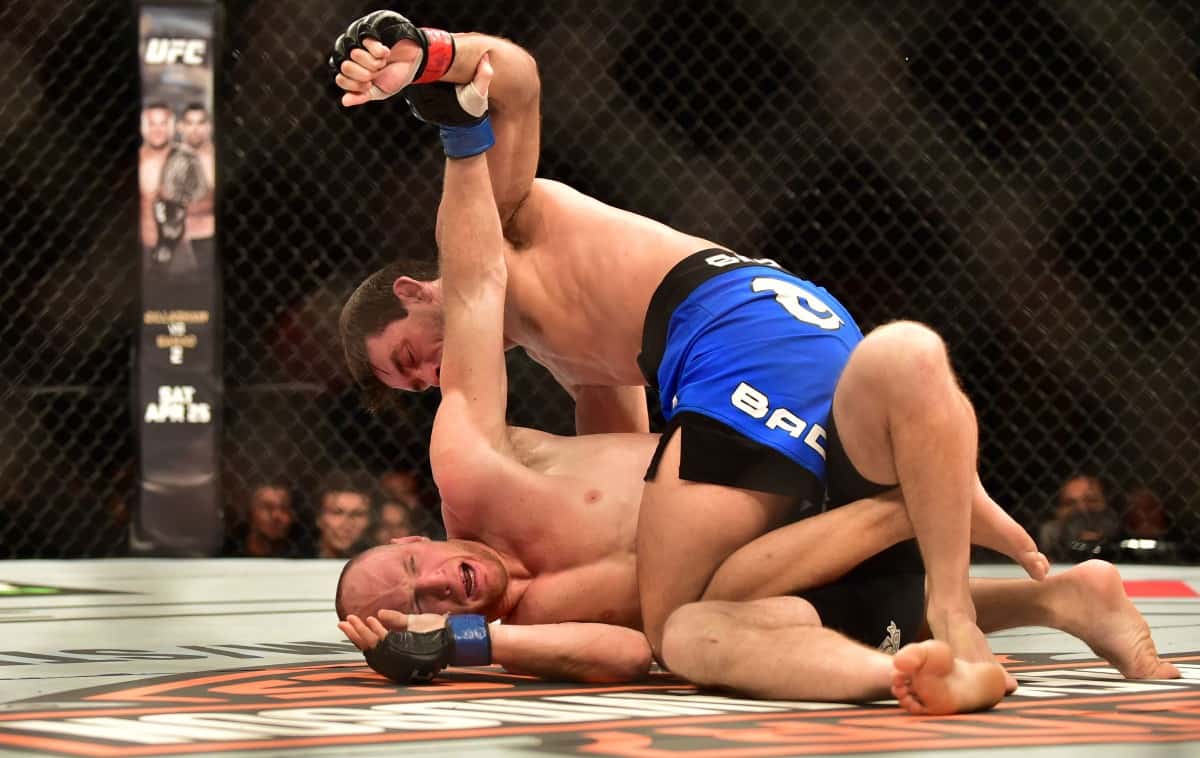 The two were originally set to meet on the main card of UFC 202 on August 20th, headlined by Conor McGregor vs Nate Diaz II, but instead were moved to a headliner spot of their own on the UFC on FOX 21's card from Vancouver just seven days later.
Condit admitted he preferred this move, and the new five round stipulation was enticing as well:
"I like the fact that with this new date it'll be a five-round fight, main event. I feel like this fight should be a main event.
202 was a huge card, but we weren't even co-main. We were third from the top. I didn't necessarily like that.
"Then I had a week longer to train," he said. "This fight was not super short notice, but it's fairly short notice.
I had to get in camp and get to work right away. This gave me an extra week to work."
Maia has a history of immediately taking his opponents' backs in fights and either grinding out a decision win, or locking in a choke utilizing his wide BJJ skill set. Condit admitted this could be a possibility in their fight as well, but also stated that he "can end this fight quickly and violently" at any moment as well:
""It could be five more rounds of Demian Maia on my back, dominating me in a jiu-jitsu position. Could be," he admitted.
"Here's the thing, though. He's underrated. Because he's a phenomenal fighter, he should possibly, potentially be a no. 1 contender, but the thing is, his style's not fan friendly.
He doesn't fight. He goes in there and he grapples," he said. ""There's been a few fights where he's gone against Chris Weidman and he threw down a little bit then.
But in his recent fights, he just plays it super safe. I was cageside when he fought Gunnar Nelson and he had Gunnar Nelson beat. Gunnar was up against the fence, he was defeated.
Demian Maia had the opportunity, hey, let's finish this out. Let's throw some strikes. His strikes are very decent. He's a good striker and yet, boom, shot in.
Shot in on him, laid on him, he could've at that point, that opportunity kinda made a statement like, 'hey, I'm here. I'm not always the boring fighter', but he plays it safe and he's been playing it safe.
That's why he's not where he should be with regard to rankings or respect among welterweights."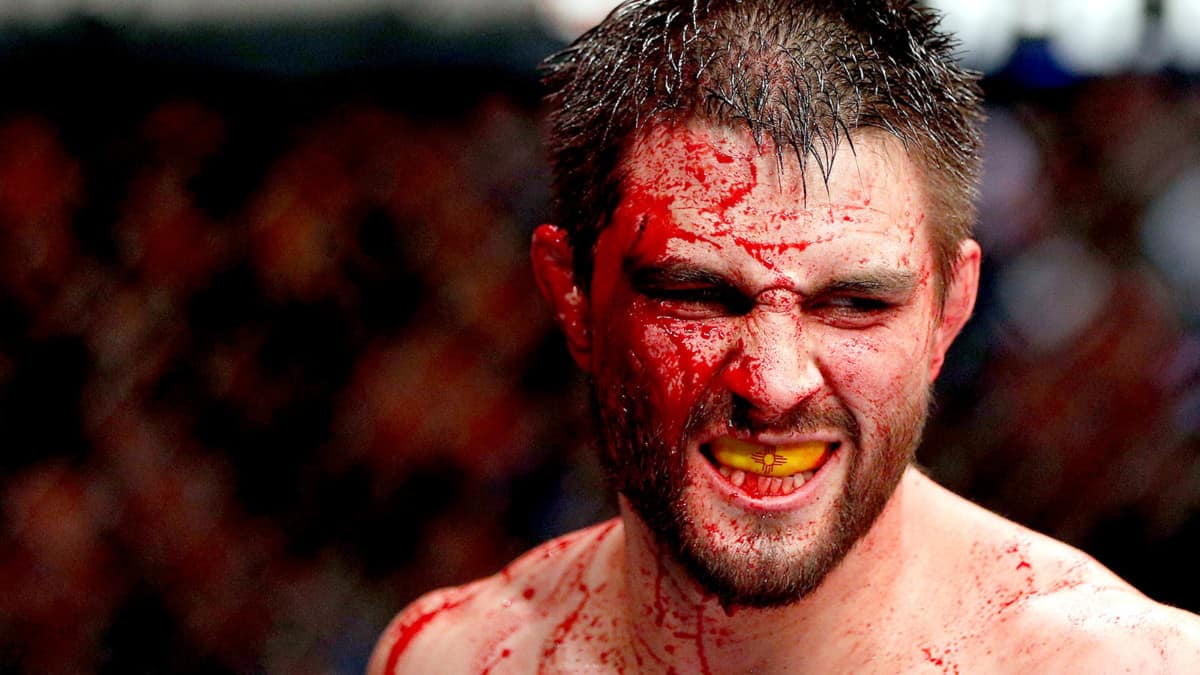 When pondered with the question of this possibly being his last fight, Condit stated that any fight could be his last, but he doesn't believe this is it:
"Any of these fights could be our last fight," he said. "This is dangerous. You saw Cyborg with that crazy head injury. Any of these fights could be our last, man.
This is a dangerous sport. I've been at this a long time. It is a possibility. Anything's possible. I don't think it'll be my last fight, but s–t, who knows?"
Condit and Maia will meet in the main event of UFC on FOX 21, live from the Rogers Arena in Vancouver, British Columbia, Canada on August 27, 2016.