Cain Velasquez Admits He Didn't Train Enough At Altitude For UFC 188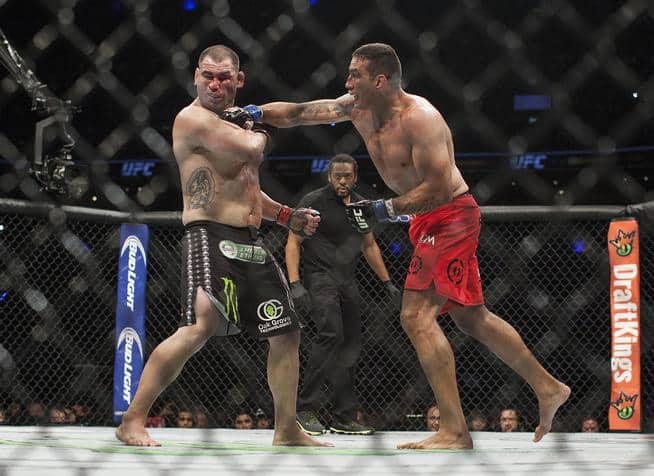 Cain Velasquez was out of sorts last night (Saturday June 13th, 2015) against Fabricio Werdum at UFC 188, losing to a third round guillotine choke to the newly crowned undisputed heavyweight champ. It was a great night for 'Vai Cavalo', as he cemented his status as the best heavyweight fighter on the planet, for the Mexican in front of his home crowd, it probably couldn't have gone much worse.
Velasquez was clearly gassed after the first round, in a complete contrast to what we've seen from his in the past, and it was all downhill from there onwards. Werdum's prediction that the cardio king would gas came true, much to all of our surprise. Velasquez was asked after the UFC 188 main event by MMA Fighting if he thought that training for just two weeks at altitude was enough, check out his response:
"Maybe that wasn't enough," Velasquez said. "Again, no excuses. Fabricio was the better guy tonight. He fought with great technique. Very relaxed."
"We didn't not want to go to the ground with him," Velasquez said. "We knew that if we fought everywhere we'd have to do that. We're not one-sided anymore. We go to the ground and we fight there. I was ready to do that. Going in for a double leg, he caught my neck. I had my head way on the outside. That was my fault. Again, you live and you learn."
Werdum has made a habit of beating heavy favorites in big fights, you only need to remember that he ended Fedor Emelianenko's doiminant 10-year run with a submission to get proof of that. All the same, few expected the Brazilian grappler to trade on the feet, and then finish Velasquez on the mat at UFC 188, a fate that the ex-champ likens to his shock knockout loss to Junior Dos Santos:
"It felt the same way definitely with the fight against dos Santos," Velasquez said. "Same kind of feelings. The plan is always to come back to training and get better. That's what we have to do. Keep that hunger. That's the plan."
After a lengthy 18-month layoff, not enough altitude training and a challenger who had already fought in Mexico mere months ago and had remained in 7,200 foot shape, UFC 188 is looking rather lopsided towards Werdum in retrospect. You know what they say about hindsight.
Time will tell if Cain Velasquez can bounce back in to the championship picture, as a likely rematch with Fabricio Werdum lies on the horizon. How much would you bet that fight goes down in Brazil?