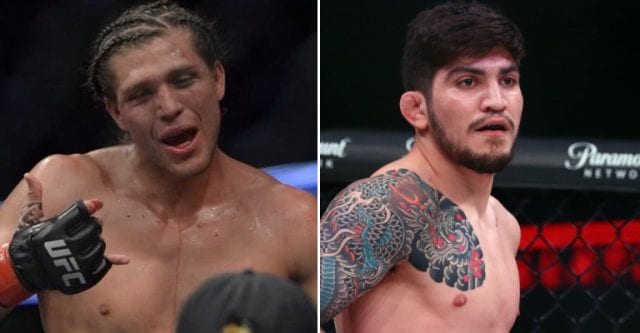 UFC 229 had a wild ending this past weekend (Sat. October 6, 2018).
Khabib Nurmagomedov successfully defended his 155-pound title against Conor McGregor in the main event. "The Eagle" locked in a neck crank on the Irishman that forced him to tap out in the fourth round. It was the second-ever time that McGregor lost under the UFC banner.
After the fight's conclusion, however, McGregor cornerman and sparring partner Dillon Danis began antagonizing the Russian with verbal attacks. Khabib had enough, jumping over the cage and onto Danis, sparking a huge brawl outside the Octagon. Meanwhile, inside the cage, a few Khabib teammates attacked McGregor and all hell broke loose.
Fortunately, UFC event security staff were able to contain the situation. Danis' antagonization obviously sparked the entire ordeal, however, tensions between both sides were already at an all-time high. It appears that after the event Danis was reluctant to retreat to the comfort of his hotel.
Instead, he went out to the club, but kept a low profile given the events that transpired earlier that night. Danis apparently ran into UFC featherweight title challenger Brian Ortega while hitting the town. The pair conversed about their jiu-jitsu backgrounds and spoke briefly of the UFC 229 brawl.
Ortega detailed the conversation during a recent interview with TMZ Sports (via BJPenn.com):
"He came up to me and he was like 'hey man,'" Brian Ortega said. "At first I was like damn, what are you doing here — especially alone. I was like this guy's a savage right now. He had a hood on, trying to be low key, but he came up to me, he was respectful, he was like 'hey man, you're holding it down for the jiu jitsu community, you're doing your thing, I admire you, I appreciate it.'

"He was cool about the whole situation, he wouldn't really tell me much [about the brawl], he was like, 'yeah man, shit got crazy. These guys started throwing, I started throwing.' One of his eyes was swollen. He was just telling me he got a concussion, so he got down too man.

"After that, he was going to walk out by himself, and I told my boy, I go 'make sure this guy gets out of here alright,' cause, you know, there seemed to be some Russians in that club. So I was like 'make sure this guy gets out safely.' Cause the last thing you want is this guy getting jumped going out."
If you enjoyed this story, please share it on social media!