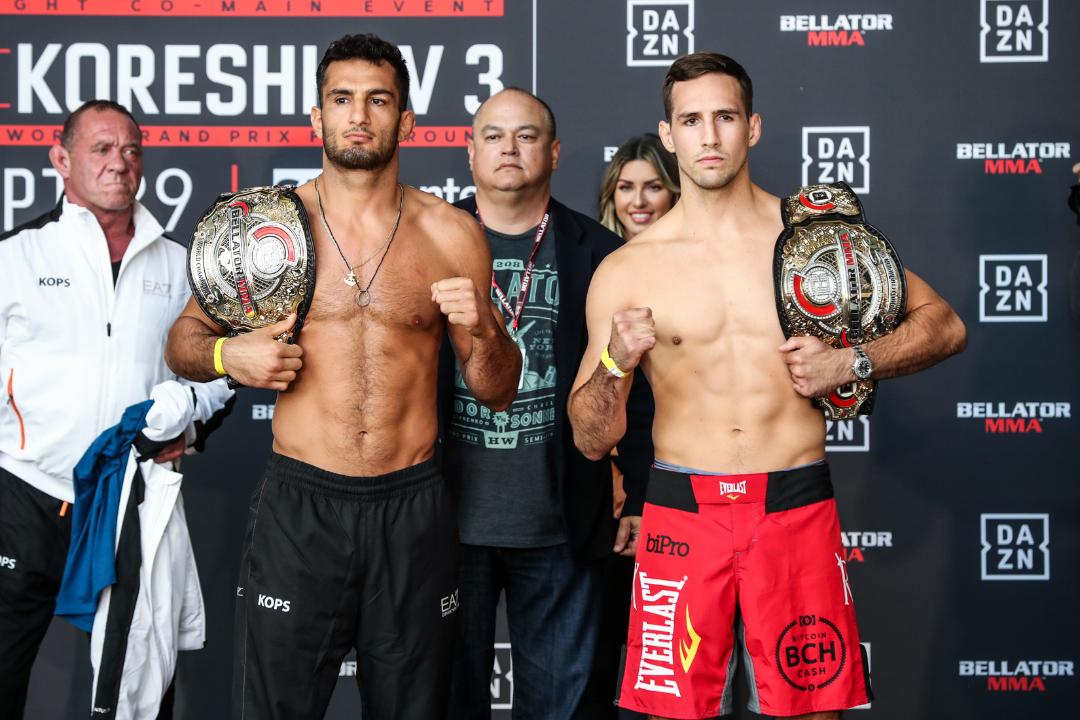 Bellator 206 results are in the books as the Viacom promotion held their latest event on DAZN streaming app for fight fans around the world.
It's once again fight day here at LowKickMMA, and the talent on display tonight (Saturday, September 29, 2018) came in the form of Bellator 206 from Sacramento, California.
Gegard Mousasi and Rory MacDonald met in a middleweight title bout in the main event. The story of the fight was all Mousasi. The middleweight champion controlled MacDonald with his smooth style and accurate jab in the first round. In the second it was all about Mousasi's ground game. He landed on top off a MacDonald takedown attempt and rained down endless ground and pound. A series of elbows bloodied MacDonald and Herb Dean had no choice but to call off the fight. 
Quinton Jackson and Wanderlei Silva meet in a heavyweight bout in the co-main event. Jackson won the fourth fight by flooring Silva with a huge right hand in the second round before finishing it with ground and pound.
Andrey Koreshkov vs. Douglas Lima fought in the first round of the World Welterweight Grand Prix. In a back-and-forth bout, Lima used his trademark low kicks and Koreshkov a relentless, grueling wrestling game against the fence. Lima turned the tables in the final frame with a brutal rear-naked choke to advance in the tourney.
Rising prospect Aaron Pico met Leandro Higo in a featherweight bout. Higo was an ultra-tough competitor, but Pico stalked him with a nonstop barrage of first-round punches to earn his fourth straight opening-round knockout.
Keri Melendez vs. Dakota Zimmerman threw down in a women's strawweight bout. Melendez won the fight by close split decision.
Opening the main card was DAZN was Gaston Bolanos vs. Ysidro Gutierrez in a featherweight bout. Bolanos won the bout by second-round TKO thanks to a flurry of strikes.
Here are the results for this event:
Main Card (DAZN, 10 p.m. ET)

Middleweight Title Bout: Gegard Mousasi def. Rory MacDonald via R2 TKO

Heavyweight Bout: Quinton Jackson def. Wanderlei Silva via R2 TKO (4:32)

World Welterweight Grand Prix Opening Round Bout: Douglas Lima def. Andrey Koreshkov via R5 submission (rear-naked choke, 3:04)

Featherweight Bout: Aaron Pico def. Leandro Higo via R1 TKO (3:19)

Women's Strawweight Bout: Keri Melendez def. Dakota Zimmerman via split decision
Featherweight Bout: Gaston Bolanos def. Ysidro Gutierrez via R2 TKO (1:37) 

Preliminary Card (Online, 7 p.m. ET)

Adam Piccolotti def. James Terry via unanimous decision (29-28, 30-27, 30-27)
Jeremiah Labiano def. Justin Smitley via R1 TKO (3:28)
Arlene Blencowe def. Amber Leibrock via R3 TKO (1:23)
Josh San Diego def. Joe Neal via split decision (28-29, 30-27, 29-28)
Cass Bell def. Ty Costa via R2 submission (armbar, 3:06)
Isaiah Gonzalez vs. Khai Wu
Jacob Ycaro vs. Ignacio Ortiz
Laird Anderson vs. Ahmed Abdelaziz
Chuck Campbell def. Joseph Ramirez via unanimous decision (30-27, 30-27, 30-27)
Anthony Figueroa Jr. def. Samuel Romero via unanimous decision (29-27, 28-26, 29-26)