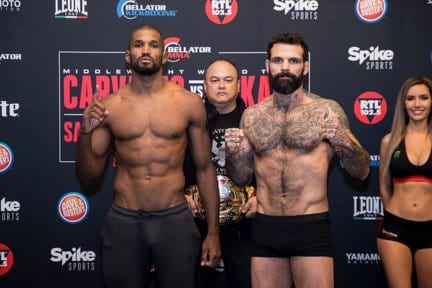 It's once again fight day here at LowKickMMA, and the talent on display tonight (Saturday, December 9th, 2017) will come in the form of Bellator 190. Headlining the card are Rafael Carvalho and Alessio Sakara, but there's a whole bunch of great fights also taking place on the rest of the main card.
Rafael Carvalho and Alessio Sakara meet in a middleweight title bout in the main event. In round 1, Carvalho rocked him with a right hand then a liver kick. Sakara backed up and Carvalho cracked him with a nasty elbow strike that dropped Sakara for the win.
Brandon Girtz and Luka Jelcic meet in a lightweight bout in the co-main event. In round 1, Gritz landed a solid combo to open the round then Jelcic went for a takedown but it was stuffed. Jelcic clinches and lands some good knee strikes. They through some power shots as Jelcic continued to work for a takedown. Gritz caught him with two big uppercuts that finished this fight. Explosive.
Lena Ovchynnikova vs. Alejandra Lara is next in a women's flyweight bout. In round 1, Ovchynnikova rocked her with two right hands then took her down and got side control. Lara scrambled and put her on her back. Lara got mount and landed a series of strikes. Ovchynnikova was able to scramble to her feet but Lara took her down to the ground again. In round 2, Lara continued to dominate with her takedowns and ground and pound. In round 3, Lara took her down and was able to get her back and lock in the rear-naked choke for the win.
Opening the main card on Spike TV is Mihail Nica vs. Carlos Miranda in a lightweight bout. In round 1, Miranda clinched with him and went for a takedown but couldn't get anything. He blitzed him with strikes then they exchanged knees in the clinch. Nica went for his own takedown but Miranda put up good takedown defense. Miranda managed to get a trip takedown midway through the round. Miranda worked him over with strikes and elbows. Nica was able to get back to his feet as the round came to a close. In round 2, Miranda was able to score a takedown to start the round and got full mount. He landed some solid shots. Complete domination. Nica tried to scramble and Miranda locked in an armbar but Nica got out of it and to his feet. They clinched up against the fence. Miranda was able to secure a takedown and got full guard to end the round. In round 3, Miranda took him down once again and Nica went for a guillotine choke but couldn't get it. Miranda landed some more solid shots from the top. Miranda picked up the decision win.
Here are the results of this event:
Middleweight World Title Main Event: Rafael Carvalho def. Alessio Sakara via KO at 0:40 of Round 1

Lightweight Main Card Bout: Brandon Girtz def. Luka Jelcic via KO at 1:57 of Round 1

Women's Flyweight Main Card Bout: Alejandra Lara def. Lena Ovchynnikova via submission (rear-naked choke) – Round 3, 4:09

Lightweight Main Card Bout: Carlos Leal Miranda def. Mihail Nica via unanimous decision (30-26, 30-27, 30-27)