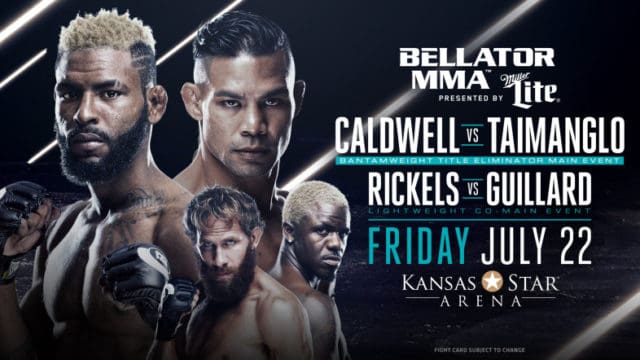 Bellator officials held the weigh-ins for Bellator 159 on Thursday and you can watch them here:
Bellator 159: Caldwell vs. Taimanglo takes place on Friday, July 22, 2016 at the Kansas Star Arena in Mulvane, Kansas. The prelims will air on Spike TV.com while the main card (four bouts) will air on Spike TV.
The event is headlined by a bantamweight title eliminator bout between Super Prospect Darrion Caldwell and Joe Taimanglo. The winner of this fight will face the current bantamweight champion Eduardo Dantas later this year. In the co-main event of the evening, local hometown hero Dave "Caveman" Rickels (17-4) will meet Melvin "The Young Assassin" Guillard (32-16-2) in a lightweight bout.
Here are the weigh-in results:
Darrion Caldwell (136) vs. Joe Taimanglo (138)
David Rickels (155.8) vs. Melvin Guillard (*157.9)
Daniel Weichel (145.2) vs. Emmanuel Sanchez (146)
Luiz Philipe Lins (204.6) vs. Guilherme Viana (205.1)
Bruna Ellen (125) vs. Jessica Middleton (125.4)
Bruna Vargas (125.1) vs. Emily Ducote (125.3)
Gaston Reyno (146) vs. L.J. Hermreck Jr. (144.5)
Manuel Meraz (170.8) vs. Trey Ogden (170.8)
Chris Harris (184.8) vs. Matt Foster (188.9)
Marcio Navarro (155.3) vs. Fernando Martinez (155.3)
Johnny Marifio (134.7) vs. Andy Riley (135.3)
Josh Pfeifer (155.5) vs. Henry Lindsay (155.9)
Chuka Willis (*146.2) vs. Brandon Phillips (145.8)
If you enjoyed this story, please share it on social media!