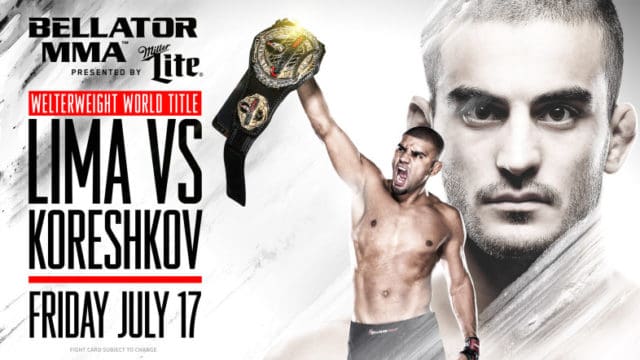 Just 24-hours before Bellator 140 takes place, Bellator MMA officials will hold the weigh-in results at 5 p.m. ET for the event.
Bellator 140 takes place on Friday, July 17 from Mohegan Sun Arena, Uncasville, Conn. The main card will air on Spike TV and the prelims will air on SpikeTV.com.
The main event will be Douglas Lima (26-5) defending his Welterweight Title against Andrey Koreshkov (17-1). The co-main event will be Paul Bradley vs. Chris Honeycutt.
Here are the weigh-in results
MAIN CARD (Spike TV, 9 p.m. ET)
Champ Douglas Lima (170) vs. Andrey Koreshkov (170) – for welterweight title
Paul Daley (171) vs. Dennis Olson (173)
Roger Carroll (171.75) vs. Brennan Ward (171)
Paul Bradley (171) vs. Chris Honeycutt (171)
Rudy Bears (170.75) vs. Michael Page (171)
PRELIMINARY CARD (Online, 7 p.m. ET)
Kin Moy (138.25) vs. Blair Tugman (136)
Ilya Kotau (170.25) vs. Nicholas Sergiacomi (171)
Eric Bedard (257) vs. Parker Porter (260.25)
Remo Cardarelli (123) vs. Billy Giovanella (125.75)
Alex Dunworth (155.5) vs. Dean Hancock (155.75)
Kaline Medeiros (124.25) vs. Sarah Payant (128.5)
Waylon Lowe (160) vs. Ryan Quinn (159.75) If you enjoyed this story, please share it on social media!