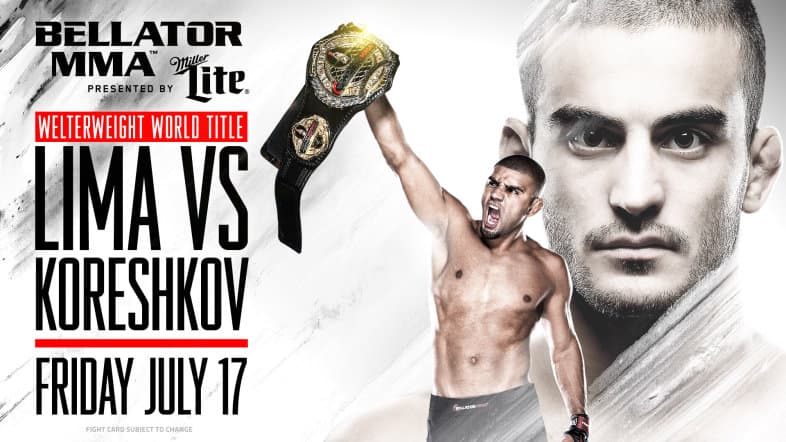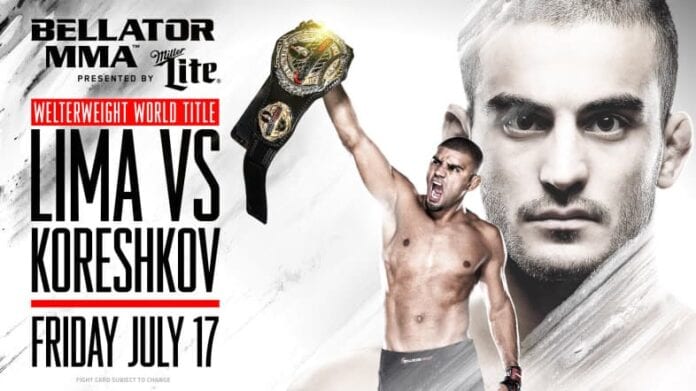 It's once again fight day here at LowKickMMA, and the talent on display tonight (Friday July 17th, 2015) will come from Mohegan Sun Arena, Uncasville, Conn, in the form of Bellator 140. Headlining the card are Douglas Lima vs. Andrey Koreshkov, but there's a whole bunch of great fights also taking place on the entire card.
The main event of Bellator 140 was Douglas Lima vs. Andrey Koreshkov for the welterweight championship. This fight was not what most people believed would happen. Most thought that Lima would not be able to be taken to the ground and that Koreshkov would keep it standing. That was not the case. Koreshkov looked for and got takedowns whenever he liked. After five rounds of not the most stellar fighting in you'll see by Bellator MMA. The judges gave the win to Andrey Koreshkov by unanimous decision.
Paul Daley was on his heels to begin the fight with Dennis Olson at Bellator 140 in the co-main event. However, Daley calmed down and controlled the majority of the first-round when he got a takedown and was on top of Olson landing some big strikes to the face of Olson. Daley blitzed Olson with strikes to begin the second-round. Olson dropped and Daley continued the onslaught to finish it.
Brennan Ward proved that he was the better fighter against Gavin Sterritt at Bellator 140 when he delivered a sickening straight right hand that put Sterritt to sleep in the first-round.
Up next was Paul Bradley vs. Chris Honeycutt. A decent fight in the first round, but the second round is where business picked up. Honeycutt was starting to open up with his striking abilities while Bradley was landing takedowns whenever he pleased. They clashed heads and the fight was called during that round. It ended in a no contest.
Opening the main card on Spike TV was Rudy Bears vs. Michael Page. Page stunned Bears within the first few seconds of the round with a clean straight right. Moments later, he caught Page with another straight right that put Bears on his back and ended the fight.
So join us right here at LowKickMMA for Bellator 140, kicking off at 7:00 PM ET!
MAIN CARD (Spike TV, 9 p.m. ET)
Andrey Koreshkov def. Douglas Lima via unanimous decision – wins Bellator welterweight title
Paul Daley def. Dennis Olson by TKO in 1:12 of the second-round.
Brennan Ward def. Gavin Sterritt by knockout in 2:06 of the first-round.
Paul Bradley vs. Chris Honeycutt ends a no-contest.
Michael Page def. Rudy Bears by KO in 1:05 of the 1st RD
PRELIMINARY CARD (Online, 7 p.m. ET)
Kin Moy def. Blair Tugman via submission (triangle choke) (R3, 3:01)
Ilya Kotau def. Nicolas Sergiacomi via rear-naked choke (1st, 2:17)
Parker Porter def. Eric Bedard via submission (anaconda) (R2, 2:51)
Remo Cardarelli def. Billy Giovanella via unanimous decision (30-27, 29-28 x2)